PEOPLE Names The Rock 'The Sexiest Man Alive,' Everyone Nods In Agreement
by Maria Guido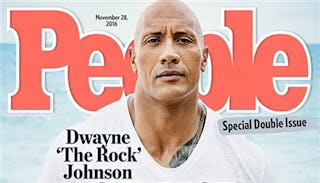 PEOPLE names The Rock "Sexiest Man Alive" because fatherhood looks good on him
PEOPLE just named Dwayne Johnson "The Sexiest Man Alive." We could have told you that. We've been hearing the sounds of ovaries exploding throughout the land since he became a father for the second time, earlier this year.
Yes, fatherhood looks good on the man. His cute little dog doesn't hurt either. Regardless, we're pretty sure his irresistible daddy-hood Instagram posts secured his spot.
Okay, maybe it's just that he's… The Rock. Who knows. But we gathered a few of the posts anyway to make our point.
Exhibit A: Tiny, adorable newborn on giant chest.
"Christmas came early! Within minutes of being born she was laying on daddy's chest," he wrote.
Exhibit B: Talking to tiny baby and bulldog.
What the hell is it with men and babies? What is it?
Exhibit C: Awww.
"What inspires me the most is always waitin' for me to walk thru my front door when I come home," he wrote. Stop.
Exhibit D: Diaper duty.
Basically, The Rock + babies = ovaries exploding everywhere, forever. So yeah. We're not surprised at PEOPLE's pick.
We kind of called it, actually.
This article was originally published on