Dwyane Wade's Kids Are Not Here For His Birthday Suit Pic On Instagram
by Cassandra Stone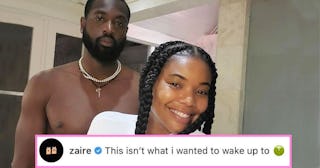 Dwyane Wade/Instagram
Dwyane Wade's kids did not mince words or reactions when they commented on their dad's naked birthday photo
We all know what it's like to know your parents are sexual beings, but not want to know your parents are sexual beings. This is the case for the children of Dwyane Wade and Gabrielle Union, who wasted no time calling their dad out for his latest Instagram post, where he acknowledges his birthday — in his birthday suit.
The former NBA player posted a photo celebrating his 39th birthday, posing with no clothes on while his wife Gabrielle Union stands in front of him very strategically.
"Birthday behavior‼️ 39 is already looking up 👀 🖤🖤🖤👑3️⃣" he captioned the photo.
They look great, they're feeling great, they're clearly crazy about each other — these are all great things! We love to see it, TBH. But if you're the child of someone who's posting a sexual innuendo and a total thirst trap photo, that's a different experience.
And Wade's kids let their dad know about it.
"This isn't what i wanted to wake up to," Dwyane's 18-year-old son Zaire wrote, adding the barf face emoji for effect.
His daughter, 13-year-old Zaya, really needs her dad to calm down: "Ayooooo chill, I just got on."
Even Kaavia James, Wade's two-year-old daughter with Union, chimed in through her personal Instagram account (clearly with a little adult supervision, but still, HILARIOUS):
"Thought I had more time before his midlife crisis," the comment reads.
They all clearly love Wade a ton, though, because his family took to their own Instagram accounts to share how much he means to them. And honestly, what's the point of being a dad if your family can't make fun of you?
Union shared her love for her husband, thanking him for always "protecting their peace."
Zaire shared an adorable father/son throwback photo in honor of his dad's big day. "Love you deeper than the surface," he captioned the pic. (BRB, it's dusty in here.)
https://www.instagram.com/p/CKJm9tAs8vh/
Zaya's addition to the family birthday shoutout is adorable, too, as she and her dad are seen head-to-head in a sweet moment.
Wade and Union shared news of their daughter Zaya's transition last year on Ellen, where they were very clear about loving and supporting her unconditionally.
"First of all, me and my wife, Gabrielle Union, we are proud parents of a child in the LGBTQ+ community, and we're proud allies as well," Wade told Ellen at the time. "We take our roles and our responsibilities as parents very seriously."
He said once Zaya told them who she really was, his wife immediately went out seeking information to ensure they supported Zaya in the best way possible.
"Now it's our job to one, go out and get information, to reach out to every relationship that we have," he said. "We're just trying to figure out as much information as we can to make sure that we give our child the best opportunity to be her best self."
Here's hoping he has a fabulous birthday with his fabulous family.