Dwyane Wade And Gabrielle Union Praise Daughter Zaya At GLAAD Awards
by Julie Scagell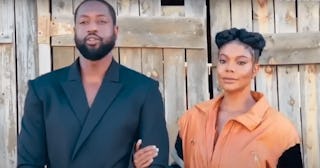 GLAAD
Wade thanked his daughter for showing the family how to fully support her
Dwyane Wade and Gabrielle Union have been open publicly about their daughter Zaya coming out as transgender, fully supporting her in every way. And on Thursday night, the couple continued to praise Zaya for her poise and for her determination to educate their family and the world about her journey.
The couple presented the award for "Outstanding Drama Series" during the 31st Annual GLAAD Media Awards, which were held virtually, and made a point to talk about their 13-year-old daughter's story.
"We stand as allies with the LGBTQ+ community as proud parents of a transgender child," Wade said. "Our daughter, Zaya, is leading us in our journey, and we're doing all we can to give every one of our kids the ability to live their truth."
Wade also thanked GLAAD for helping them during the process of her coming out. "I didn't always understand how to do that – but I want to thank Zaya for teaching me and GLAAD for elevating the images and messages that accelerate acceptance in every family," he said.
Wade sat down with Ellen DeGeneres earlier this year to talk about their decision to fully support Zaya. "When our child comes home with a question, when our child comes home with an issue, when our child comes home with anything, it's our job as parents to listen to that, to give them the best information that we can, the best feedback that we can. And that doesn't change because sexuality is now involved in it."
"[She] said, 'Hey, so I want to talk to you guys. I think going forward, I'm ready to live my truth. And I want to be referenced as she and her. I would love for you guys to call me Zaya,'" continued Wade, calling Zaya a leader in the world and within their family.
Union also talked about the importance of using its platform to help support the Black community not regardless of, but because of who they are.
"[GLAAD's] mission means even more to us now as we raise all of our Black children. Black lives matter and Black trans lives matter," Union said. "We are calling on all of our racial justice warriors out there to open your hearts and your minds to the LGBTQ+ community so that we can work together and empower each other and save lives."
The event streamed live on GLAAD's Facebook and YouTube channels and will air Aug. 3 at 8 p.m. ET on Logo.
This article was originally published on