Dylan Farrow Exposes Hollywood's Hypocrisy With Woody Allen In Scathing Op-Ed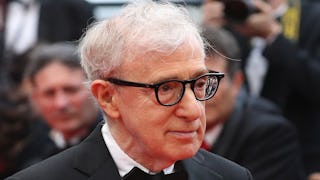 Image via Andreas Rentz/Getty Images
"Why has the #MeToo revolution spared Woody Allen?"
We are finally seeing what happens when powerful male moguls, comedians, movie stars, journalists, and politicians face consequences for alleged sexual misconduct. Starting with Harvey Weinstein and moving on down the line to Kevin Spacey, Louis CK, Danny Masterson, Adam Verit, Al Franken, Charlie Rose, and Matt Lauer — the list goes on. The careers and livelihoods of these men have disappeared almost overnight.
So why aren't we ready for Woody Allen to disappear?
In 2014, Farrow wrote an open letter to The New York Times that detailed her accusations that Allen — her adopted father at the time — molested her as a child. Even though her words were powerful and her allegations disturbing, it still wasn't enough for Hollywood to write off Allen for good.
In her recent op-ed for the L.A. Times, Farrow called out Hollywood actors like Kate Winslet and Blake Lively for working with Allen even though they've been quite vocal against perpetrators like Weinstein. Many actors who have worked with Allen have proudly joined the #MeToo movement, denouncing sexual abuse and misconduct in all its forms.
"We are in the midst of a revolution. Why has the #MeToo revolution spared Woody Allen?" Farrow asks. "I have long maintained that when I was 7 years old, Woody Allen led me into an attic, away from the babysitters who had been instructed never to leave me alone with him. He then sexually assaulted me. I told the truth to the authorities then, and I have been telling it, unaltered, for more than 20 years."
So what makes people pick and choose who to eviscerate? If the #MeToo movement is all about believing victims, why do the same members of the Hollywood elite who are reviled by Weinstein and his ilk continue to work with and, by default, support Woody Allen? It's hypocrisy at its finest. The fact that being cast in a Woody Allen movie is still a "career-booster" and revered as an "honor" in any way is nauseating. It's also a slap in the face to Dylan Farrow.
She points to the "money and power" that protects predators like Allen. "In this deliberately created fog, A-list actors agree to appear in Allen's films and journalists tend to avoid the subject." She calls out female actors by juxtaposing their statements on Weinstein against their comments about Allen. All Farrow did was just show their quotes on each men side by side — their own words — and it's startling, to say the least.
For example, here's the portion Farrow wrote regarding Kate Winslet (who is starring in Allen's latest movie, Wonder Wheel, which just opened last week):
"Discussing Weinstein, 'Wonder Wheel' star Kate Winslet said, 'The fact that these women are starting to speak out about the gross misconduct of one of our most important and well-regarded film producers, is incredibly brave and has been deeply shocking to hear.' Of Allen, she said 'I didn't know Woody and I don't know anything about that family. As the actor in the film, you just have to step away and say, I don't know anything, really, and whether any of it is true or false. Having thought it all through, you put it to one side and just work with the person. Woody Allen is an incredible director.'"
Much as I have always loved Kate Winslet, these words are troubling. They're also unacceptable. Winslet's words echoed those of Blake Lively and Greta Gerwig in Farrow's piece as well. All three actors didn't bat an eye condemning Harvey Weinstein, but suddenly experience lockjaw when asked about Woody Allen?
At this point, aren't we past that whole "separate the art from the artist" bullshit? Weinstein knew how to produce and finance some good films. Louis CK perfected the art of self-deprecating comedy. Matt Lauer was excellent at grilling a jerky Tom Cruise that one time. They're still alleged abusers, and there is plenty of victim testimony to validate that.
Farrow notes that while it's apparent the "culture seems to be shifting rapidly," we still have some serious work to do. No one should be able to pick and choose what victims they believe.
"It isn't just power that allows men accused of sexual abuse to keep their careers and their secrets," Farrow wrote. "It is also our collective choice to see simple situations as complicated and obvious conclusions as a matter of 'who can say'? The system worked for Harvey Weinstein for decades. It works for Woody Allen still."