The FDA Still Can't Figure Out Where A Huge E. Coli Outbreak Is Coming From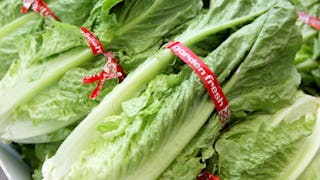 Image via Justin Sullivan/Getty Images
At this point, it's not a bad idea to throw away all of your romaine lettuce
As of the most recent count, 53 people have become sick in 16 states since March 13, when an outbreak of a particularly nasty strain of E. Coli started spreading across the U.S. No one has died, but FDA officials are warning people to throw away just about all of their romaine lettuce, the vegetable suspected to be the culprit in the spread of the bacteria.
What may be most alarming, though, is that more than a month after the outbreak began, officials still don't know where the outbreak is coming from. They believe they're pinpointed it to romaine lettuce grown in the Yuma, Arizona, region, but that's a wide net, considering almost all romaine lettuce sold in the U.S. in the winter comes from that region. Consumers are being encouraged to throw out all romaine grown in that region, as well as romaine with unknown origins — but that's just about all romaine. If it's still in your fridge, best to toss it now.
According to the Washington Post, this particular strain of E. Coli, 0157:H7 produces a toxin that can enter the bloodstream and interfere with kidney function, which makes it especially dangerous. It also causes classic E. Coli symptoms, like vomiting, painful cramps and bloody diarrhea.
The Post also notes that it's somehow normal for foodborne illness investigations in the U.S. to take this long, because there are so many steps in food production and distribution where food is handled and can be contaminated. A big clue came this week when eight prisoners in Alaska got sick, and the prison was able to trace its romaine lettuce to one distributor who got it from one farm. But that still doesn't solve this.
"The FDA's investigation is still ongoing. What they have is not conclusive," FDA spokesperson Peter Cassell told reporters on Monday. "We are still working on the traceback. We have not traced it back to a particular farm or supplier."
Thankfully, the winter growing season in Romaine is ending, and much of the romaine that's showing up on store shelves now is grown in California. But that doesn't mean consumers can let their guard down. They still need to be making sure that romaine they get in stores and restaurants isn't from the Yuma growing area.
That means if you haven't checked your fridge yet, now is a good time. And maybe stick to spring greens for a little while.