Putting Up Christmas Decorations Early Could Make You Happier
by Julie Scagell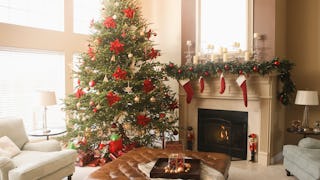 Image via Getty
If putting up Christmas decorations early is wrong, we don't want to be right
If you are a person who breaks out the Christmas tree and garland as soon as the last trick-or-treater comes to your door (ahem), good news. Studies show us early decorators may make us happier people all around. That's right — people who put up Christmas decorations early may be happier.
There are two types of people in this world — the ones who can't wait to drape every square inch of our homes in holiday cheer and the stick-in-the-muds. If you aren't playing Christmas music come July, we can't be friends. And it turns out doing so can make those of us who decorate early feel happier and more connected to our happy childhood memories.
"In a world full of stress and anxiety, people like to associate to things that make them happy and Christmas decorations evoke those strong feelings of the childhood," psychoanalyst Steve McKeown told Unilad. "Decorations are simply an anchor or pathway to those old childhood magical emotions of excitement. So putting up those Christmas decorations early extends the excitement!"
The Journal of Environmental Psychology also found when people put up exterior decorations they are seen as friendlier and having "greater sociability" than neighbors who don't decorate and often use their homes to "communicate attachment and possibly to integrate themselves into a neighborhood's social activities." So break out those wreaths and light-up snowmen, they are a sign that you are welcoming. But please don't leave your lights up until Memorial Day or you will quickly lose your World's Best Neighbor award.
Not only does this help remind our neighbors how friendly we are, early decorating can actually make us feel more positive ourselves. Psychotherapist and author of 13 Things Mentally Strong People Don't Do, Amy Morin, told Unilad that this nostalgia of the holidays "helps link people to their personal past and it helps people understand their identity. For many, putting up Christmas decorations early is a way for them to reconnect with their childhoods."
It can also help us reconnect with a lost loved one and bring back memories of happier times with that person. "Decorating early may help them feel more connected with that individual," Morin says. It's true, the holidays can be stressful but also they can also be where some of our best family memories come from.
Whatever the reason, it seems we can't go wrong by dusting off our snow globes and stockings whenever it feels right for us. In today's world, we could all use a some holiday cheer early and often.
This article was originally published on