Easy DIY Home Projects Literally Anyone Can Take On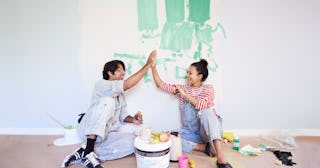 Klaus Vedfelt/Getty
Whether you just bought a home or you've lived in your space for decades, there's always work to do. Many of us, though, were not born with the Tim Taylor gene. Even the simplest home improvement project can seem overwhelming. And, let's face it, Chip and Joanna Gaines don't exactly make it look easy. That man is always sweating. Keep in mind: Sometimes just decluttering your home is enough to make it feel fresh and new. If you've just moved houses though, you've probably already done the decluttering. The truth is, many DIY projects are not only easy but a ton of fun, too. You don't have to go big or expensive to refresh the look of your home. You don't even have to try to convert your black thumb to a green thumb and keep flowers alive. All you need is a little confidence and guidance. The internet and Scary Mommy are here to help you turn your boring house into a glorious home.
Quick and Easy DIY Home Projects
1. Paint
Even if you're terrified of color, just a fresh coat of white or HGTV-grey paint can make a world of difference on grungy, stuffed walls. Just make sure you give them a good scrubbing, first. Remove any switch or outlet plates and patch holes up before you begin. (More on that below.) Not sure what type of paint to use? The glossier you go, the easier it is to wipe clean… but the harder it is to conceal any blemishes in your wall. Eggshell is a solid option you can easily carry throughout your home.
Want to try color but don't know where to start and are terrified you'll hate it? Check out the "oops" shelf each time you cruise your local hardware store. (If you've recently bought a house, you might find Lowe's has become your new Target.) Mama just scored a lovely, fresh white for $9 a gallon so she can spruce up her pantry and a purple for the kiddo's room at the same price.
2. Change Hardware You Hate
A lot of the hardware that comes with builder-grade cabinets or low-price vanities can seem a little, well, awful or just boring. If those silver circles aren't your jam, then take them off. In many cases, no tools or wood filler are even required, just a little elbow grease to remove the old screws at the back of the drawer pulls. While your hardware is removed, take the time to clean your cabinet faces well. Use a Magic Eraser, Goo-B-Gone, or both. You can find super cute knobs and pulls at your hardware store, sure. But, don't forget to check places like Amazon, Anthropologie, and even a local arts and crafts store for more unique options.
3. Clean Hardware You Love
If you bought a very old home, you may not even know if you like your hardware yet because the previous owners painted over it years ago. Clean it up and see what you think. If you don't like it, you can probably sell it on eBay or Etsy and make a pretty penny to go towards new hardware.
A few tips:
If you can't even find the screw holes to remove your hardware, there are two options. The cheapest option uses a harsh chemical, but it works well. A liter of Citristrip applied with a small brush or Q-Tip will remove years of paint. If you go this route, make sure the area is well-ventilated.
If you're cleaning a lot of hardware, grab an old slow cooker. Check Good Will or your neighborhood's free or trade Facebook group. Once you've removed everything, put them in the slow cooker with some water and dish soap and let them "cook" for several hours… maybe even overnight. Remove them with tongs, wipe them down and you should reveal some lovely historic pieces. Just don't ever use that slow cooker for cooking, again.
4. Change Your Lighting
"I thought you said this was going to be easy?!" It is. Lighting seems terrifying because it involves electricity. But, it boils down to two or three color-coated wires and a few screws. Always make sure the power is turned off at the breaker (probably located in your basement). You might even want to buy one of those $7 tester pens if you'll feel safer. This video does a great job explaining the process.
5. Update Kitchen Sink/Faucet
When we bought our century-old home, the kitchen had long been stripped of all character. All that "remained" was the glorious pantry and a cheap sink/counter unit the previous owners installed in the '90s before renting it out. A full kitchen redo is expensive. But the sink was shallow, and the faucet was low. After a bit of investigating, we figured out it's incredibly easy to remove and replace sinks and faucets. There's even a video from the experts at Home Depot to explain.
6. Update Flooring
Admittedly, this seems like a big job. But, a ton of home improvement stores actually give monthly lessons on how to install vinyl planks or tile. And installed sheet vinyl is not only easier, but it's also super cheap. Plus, these days you can find it in a ton of trendy styles. Just make sure your floor is even and smooth, first. We also suggest you cut twice: During the first cut, leave a bit of excess (about an inch or two above where the floor meets the wall). Then, on the next pass, trim closer to the meeting spot. Once you caulk things off and replace your trim, it'll look fresh and perfect.
7. Pressure Wash (Carefully)
If your driveway, siding, or deck are looking a little worse for the wear, a pressure washer might be in your future. Pressure washers are fantastically easy to use but they also make it very easy to cause damage. Most washers have two spray options: A concentrated, pointed spray and a fanned-out spray. For most surfaces (especially on siding!), you'll want to stick with the fanned-out spray. Only use the fine-point spray for areas like between concrete sections and only if you plan to refill them.
8. Replace Your Mailbox/House Numbers
Maybe there's nothing horribly wrong with your mailbox. But, the flag broke, the reflective numbers are pealing, and the once-sleek black is looking a little grey. Mailboxes, whether they're on the side of your home or a post, are easy to replace and fairly inexpensive unless you decide to go all out. Your numbers are also an easy upgrade and can change the look and feel of your home. We just scrubbed off the reflective stickers and replaced them with some mounted numbers that have a bit of an Art Deco vibe to them. Suddenly the house looks less like an unloved rental and more like the home of some cool neighbors.
9. Paint Your Front Door
Painting your front door is a no-brainer. Especially if you already replaced the mailbox and numbers. Doors typically see a ton of use and take a real beating from the sun. Plus, it's a fairly small surface. A gallon of glossy paint will be enough for your front and back doors and you'll still have enough left over to refresh when needed. Unsure of the color? The oops shelf is, once again, a solid option. Though it's not as often you run into exterior paint there. Check out Pinterest! Search for "(current house color) + Front door" and see what everyone else is doing. If all else fails: Red, black and blue are classic options and orange is the current trendy color.
10. Install Smart Technology
It's not just trendy to have Alexa or Google running the show at your home, it's also incredibly efficient. With smart thermostats, you can program your HVAC system to accommodate your schedule. And if you forget to turn down the heat during your winter beach retreat? You can do it from your phone while you lounge in the Florida sun. Just like replacing light fixtures, it's a matter of turning off the power and connecting a few wires. Smart lightbulbs are another solid upgrade. Not only is this another piece of your house you can now control from anywhere, but many bulbs also play music which makes them a solid replacement for running speakers (wireless or otherwise) throughout your home. Just make sure you get the ones that work with your current music app so things run as efficiently as possible.
11. Change Switches, Outlets, Plates
While you have the power off to certain sections of your home, it's a good time to consider changing out old light switches or electrical outlets and the plates surrounding them. If you're in an older home, they might have put in ugly beige ones. But even newer homes start to see yellowing over time. While 3-way switches can be more complicated, regular switches and outlets are about as easy as changing out a light. Just, again, make sure the power is off. You can buy everything you need from home improvement stores, hardware stores, or even Amazon.
12. Refresh Trim/Molding
Baseboards and door trim often show the most wear and tear in homes. Fixing most damage (scuffs, chips, or cracking paint) is fairly easy if a bit tedious. The easiest thing is to do some light sanding and just repaint. If you have a particularly old home and suspect your trim and molding are made of real wood you may want to consider stripping the paint off entirely and leaving the old wood to shine through. This is a bit more time-consuming, but the results can be pretty magical. Just like with the old hardware, your best bet is to use a heat gun or a stripping agent. Make sure you wear a mask and keep the area very, very well ventilated.
Handmade Decoration Ideas for Home
After you've completed all your home improvements, add some extra razzel dazzel to your home with these super cute homemade decoration ideas.
1. Textured Wallpaper
Looking to give your living or living room a rustic vibe? Instead of painting, grab some concrete or brick wallpaper and wrap it around your walls.
2. Lounging Ladder
Instead of folding your couch blanket into the corner, buy a short wooden ladder that's wide enough to hold your throws. You can add flowers and photos to it too. And feel free to decorate the ladder with ropes and tassels!
3. Suitcase Stands
Turn your old vintage suitcases into nightstands or end tables. All you need is some hot glue and a short table stump/chair legs.
4. Shoe Holder Planter
Want to add some pizzazz to your backyard? Get an old shoe holder (clear ones will give a unique look), and instead of pots, put a plant in each shoe holder. You can keep things green or plant a variety of flowers for an array of colors. Feel free to hang it on your shed door or your garden gate. It's a beautiful way to add some color.
DIY Safety Tips
Making DIY home improvements is fun and affordable, but it's important to do it safely. So if you are not a true handyman, follow these tips to avoid losing a thumb.
Don't overdo it. Make sure you have the right tools for the job and use only that.
Protect yourself. Wear gloves, dust masks, close-toe shoes, and make sure your hair is tied back.
While working, keep the window open and pay attention to any strange smells or chemicals.
Depending on what you're working on, especially jobs concerning electricity, keep a fire extinguisher nearby just in case. And if you're working with rags that may be flammable, put them in a metal bin of water when you're finished.
Accidents happen, so keep a first aid kit ready. Nicks and cuts are part of the DIY job. To take care of minor injuries quickly, have a few bandaids and disinfectant wipes ready.
This article was originally published on