15+ Educational Video Games That Kids Of All Ages Will Actually Want To Play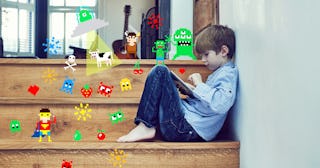 Flashpop/Getty Images
As parents in this digital day and age, we all worry a little (OK, sometimes a lot) about how many hours our kids spend basking in the glow of blue light. And let's be honest, we're all going to worry about that regardless. But educational video games are a great way to feel at least a bit more confident about your child's screen time. We know, we know — you can already predict your kids' eyes rolling at the idea. But educational video games have come a long way! Many games today incorporate lessons in such a fun way that your child might not even realize that they're picking up essential skills and information.
Bonus: Some of the games might help if you're choosing to homeschool this year. Since the state of the world is still somewhat of a question mark right now, you may be looking for actionable ways to teach kids that'll grab their attention. Educational video games are a fantastic resource for that. Don't feel bad — screen time might not be the best thing for kids, but it can be very effective. Besides, we all deserve a teensy bit more grace right now. Wouldn't you agree?
So, if you're curious about the best educational video games to check out, keep reading for some great titles for everyone in the family.
Educational Video Games For Ages 2-4
The PBS Kids App. Parents everywhere need to get the PBS Kids game app since it's one of the most trustworthy (and fun) apps out there. At home, kids can play games with the characters from Arthur, Sesame Street, Daniel Tiger's Neighborhood, and more. The app is ad-free and constantly updated. As a parent, you'll love the fact that many of the games link in math, science, and critical thinking. And since it's by PBS Kids, it's a game you can trust.
Crayola Create And Play. Crayola has been a great company for art and imagination, so it makes sense that their app would be very similar. Available at the app store and Google Play, this app — which has a free trial — lets kids experiment with different colors and even includes a "Discovery Classroom."
ABCMouse. By now, you've probably seen all the commercials for ABCMouse. It's an app worth downloading that includes several varied games and lessons. Children will even love the fact that the app greets them by name whenever it's opened.
Educational Games For Ages 5-7
National Geographic Kids. It's never too early for your kids to discover a love of geography. National Geographic has always been a trusted name in education, and the brand's games are phenomenal. They're also available right on the web so that you can avoid a download. They have educational quizzes, like "Which animal trickster are you?" (I'm a drongo, which is a type of bird I just learned about right now) and adventure games like "Bug Bash" that'll keep kids entertained.
Toca Doctor. Does your child want to get into medicine someday? "Doctor" is often an excellent goal for many young kids (especially when they know nothing about the cost of medical school). This game, available on the Apple app store for $3.99, doubles as a cool intro to biology. Kids can learn more about the human body in a friendly and fun way.
One Globe Kids — Friends. Right now, travel is a bit off-limits. But kids can learn more about people from all around the globe with this app, available in the Apple store. According to the game's designers, it's "designed to foster curiosity, cultural openness, and global imagination, preparing children for success in the 21st century." Since it's not a social network whatsoever, you can feel safe having your kids "interact" with it.
Khan Academy. Khan Academy is a bit like ABCMouse in that your child can likely get a head start early on and use the app for a couple of years. Experts in early childhood education created the app, which is completely free! It's an ideal way for kids to brush up on their math skills and learn about space while having fun.
Educational Games For Ages 7+
Robot School: Learn to Code. Coding offers a fantastic way for children to learn more about how to program. If your child is interested in technology (and who isn't these days?), this educational video game can provide a ton of basic information in a fun and accessible way. All kids should learn how to code, after all, since it'll be extremely beneficial later on in life.
iCivics. This fun and free Windows game will appeal to anyone who wants to learn more about monumental cases in history. Kids (or adults) can choose which side of a popular trial to take and learn about the court process while also learning about history. The prompts are fascinating, and it's the one time you'll be able to change history.
Where on Google Earth is Carmen Sandiego? Yes, Carmen Sandiego is still around and still traipsing around the world. But this time, you don't need a CD-Rom drive to follow her. Carmen is actually linked to Google Earth, which means all kids with internet access can easily enjoy it. Just go to Google Earth, click on Voyager, click on Games, and scroll down to start your adventure.
Scribblenauts. Looking for a good game for your Nintendo DS? Then, consider picking up Scribblenauts. Initially debuting back in 2009, Scribblenauts is a great game for puzzles and will inspire kids to think outside the box. The series was so successful that a few different versions came out for various gaming systems.
Endless Ocean. Endless Ocean is an easy decision for kids who want to learn more about life in the water. The game can be found for Wii systems and will teach your children about all kinds of different animals in the ocean. If you have an aspiring marine biologist in the family, this one's a must.
Big Brain Academy. Super Smash Bros. isn't the only game your kids can play on their Nintendo Switch! Big Brain Academy: Brain vs. Brain for Nintendo Switch allows kids to use their academic and cognitive skills to play against others. Competitors are tested on their memorization, animal identification, and other brain speed skills. Up to four players can join in on the fun, and your kiddos will love the mental exercise as they strive to beat each other's high scores.
Educational Video Games For Adults
RISK. Keep in mind that many of these adult games can also be played by kids who are mature enough to understand and enjoy them. RISK is one of those games. It's all about conquering countries but can also teach kids about geography and math. It also allows adults to brush up on statistics. You can purchase the game in the app store or find it online.
Civilization. Civilization is a game that's all about strategy. That means that you, or your older child, can gain some logic points while deep into gameplay. It was first released in 1991 by Sid Meier and has come a long way since. The goal is in the title — you're responsible for building a civilization, starting from the prehistoric era.
The Sims. Yes, The Sims can be classified as an educational game — even if you don't see it that way. The most recent PC version is Sims 4, with plenty of expansion packs available. It's a game that focuses a lot on social interactions. For the first time, you can understand someone's mood as it relates to their level of hygiene or hunger. When trying to teach kids about social relationships (or even money) they might understand things better while watching them happen on screen.
Brainiversity. Looking for some brain stimulation? Check out Brainiversity. This game covers a range of subjects and focuses on your memory, as well as critical and analytical skills. It has more than 20 activities and challenges you can use to whip your mind into shape. It also offers daily exams and a chart that lets you track your mental progress. This game is rated E for everyone but can also be a challenge and stimulating for adults.
True Number Operator. After high school, all the math you learned can seem like an absolute blur. So if you're looking to recharge and sharpen your arithmetic skills, True Number Operator gives you the practice you need. It challenges you to solve math equations quickly. And although the problems may seem easy against the clock, it can be a real challenge.
This article was originally published on