The More You Hang Out With Grandma, The Longer She'll Live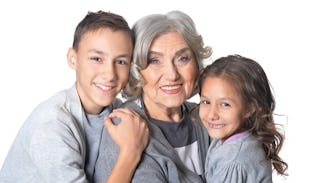 Image via Shuttershock
Social isolation is bad for an elderly person's health
As a person ages, their social circles get smaller and smaller. Family members relocate for new job opportunities, old friends move away to retirement communities, and sadly, acquaintances fall ill and pass away. Time alone increases and loneliness can set in.
A New York Times article published this week looked at the benefits of socialization in the elderly, particularly at how regular interactions and friendships can be a life saver. According to a swath of recent studies, social bonds are extremely important to the overall well-being of a person. Isolation and loneliness can take a toll on us all, but particularly on the older set.
A study published in the Journal of the American Medical Association (JAMA) found that one in three people over age 60 reported feelings of loneliness. The research also noted that people with less social connections have poor sleep patterns, decreased immunity, more inflammation, and poor health behaviors (not taking medications appropriately).
Another study, from the Public Library of Science, reported that elderly people who don't have enough social interaction are twice as likely to die prematurely. To put it in perspective, the increased mortality risk is comparable to the death risk of smoking. Loneliness is approximately twice as dangerous as obesity.
Hello, busy parents, do you realize what this all spells? I don't know about you, but I see a clear excuse to drop the kids off with grandma and grandpa more often. Hell, any able-bodied, elderly person for that matter. Joking aside, more interaction with the older folks in your life is good for them and could literally save their lives.
"You think you're going to spend time with your kids a lot more when you get older, but everyone is so busy," my grandmother said to me in a recent phone conversation. She's 74 and a total social butterfly. She's involved with her community and church, and thank goodness she is. My in-town family is pretty busy with owning a small business and raising kids, helping with homework, and carting to chorus practices and soccer games (parents – you know the grind). They get together with my grandmother often, but I assume by her comment, not as much as she'd like. Thankfully, she stays connected to her long-time friends as much as possible, and is really good at making new friends. Her propensity towards socializing has always been a positive, but it's nice to know it's actually making her healthier too.
Not everyone has a super social grandmother, which is unfortunate. The reality is that some of us don't have very active or able-bodied parents or grandparents. While busy lives can make it harder to find time to spend with elderly loved ones, it's so important. Carving time for connections with grandma and grandpa is good for them, and might help them stay with us a little longer.
This article was originally published on