Rosé In A Pouch: Because You're An Adult And You Do What You Want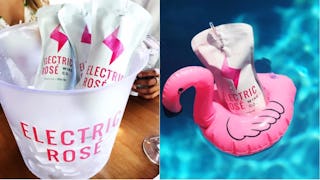 Image via Instagram
Over a bottle of wine in one portable pouch? Yes please
What's up, moms? Anyone totally not giving a shit about the eclipse today while also tuning out all back-to-school discussion and deluge of Facebook chalkboard "I'm in whatever grade" photos? Am I the only one refusing to believe summer is ending and still floating the hell around the pool, drink in hand, willing these warm days to last forever?
Then we've got just the drink to help feed that precious delusion.
Hey, hey, hey, we have rosé. In a pouch, just like a Capri sun, only it helps get your buzz on while outdoors or simply not in a place where carrying a wine glass is practical. Electric Rosé wine pouches are an adorable millennial pink, but look just like the Capri Suns we grew up swilling on the beach and the playground. Only these will help us forget that we still need to buy new lunch boxes and sneakers and glue sticks of a very specific and difficult-to-locate size.
Please pass several Electric Rosés, thanks.
The totally pretty pouches come in packs of six and each contain a bottle and a half of wine.
There's no bottle opener required, they're compact, and being that they're foil pouches, they're in compliance with "no glass" rules at parks and beaches.
We should probably buy stock in this.
ElectricRosé is available for sale in Connecticut, New Jersey, New Hampshire, Maine, Tennessee, and Georgia, which is unfortunate. Because if all 50 states had them, not only could we all drink endless wine, but the charity Water2Wines would receive tons of donations.
That's because a portion of proceeds from each case sold goes toward the organization's mission of providing clean and sustainable water sources all over the world.
So if you live in a state where you're lucky enough to be able to grab them, buy as many packs of Electric Rosé as you can. You can prolong summer and make a difference in the world. Win win.
h/t: Cosmopolitan
This article was originally published on