School Cafeteria Worker Writes Positive Messages To Students -- On Bananas
by Cassandra Stone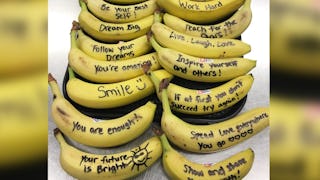 Image via Twitter/Sharon Shewbridge
These bananas are the bee's knees for these elementary kids
When it comes to encouraging small children, there's no limit to how creative you can be — even in the simplest ways. Take this Virginia elementary school, for example, where a cafeteria worker offers her students food with a side of empowerment. This "talking banana" idea is so sweet and so easy, you'll want to copy it immediately.
According to TODAY, Stacey Truman has been working at Kingston Elementary School for nearly ten years. She oversees operations within the school's cafeteria, and came up with the perfect addition to the school menu: encouraging messages on banana peels.
"I do it for my kids at home, so I decided to bring it here because they are like my kids, too," Truman tells TODAY. Truman has been writing messages for several weeks, but it wasn't until staff members began posting photos online and sharing through social media that the message idea became a hit.
On the bananas, she writes things like "Keep going," "You're a superhero," "Always do your best. What you plant now, you will harvest later," and "You are loved."
Could you imagine how big the grins must be on the kids who receive these inspiring sayings every day? "The kids love it!" she says. "They call them 'talking bananas!'"
People are loving the idea online, too.
https://twitter.com/jetpack/status/1055968281704759296
The school's principal, Sharon Shewbridge, is one of those sharing the special messages on Twitter. "I shared it on social media because we need more positive messages out there," Shewbridge says. "Mrs. Truman is so encouraging and does so much for the students and staff at Kingston. It would be great if all of our school cafeterias were able to share messages like this for their students."
This article was originally published on