Elf On The Shelf Alternatives For The Rest Of Us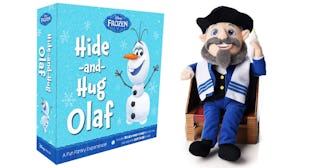 It's almost Elf on the Shelf season, and you know what that means. Your news feeds are going to be clogged with photos of Elfie and Jingles and Snowflake, painstakingly posed in mini-bathtubs full of marshmallows and making powdered sugar "snow" angels on the counter, complete with descriptive highlights of their holiday shenanigans.
I admire the parents with that level of dedication to their elves, but I don't aspire to be one. First of all, I can barely even manage to play Tooth Fairy in a timely manner, and that only happens a few times a year. I can't imagine possessing the creativity and time-management skills that it takes to wait until everyone is asleep, then construct an elaborate elf scenario. I just don't have the brain cells (or stamina — yawn) left at the end of the day, and especially not repeatedly for an entire month.
If you're like me and can't muster up the nightly commitment, or you just want something a little unique this year, here are some Elf on the Shelf alternatives perfect for every age, creed … and level of willingness.
Sorry kiddos, this one's for the grownups. Place the wineglass out each night in hopes that someone will fill it — or just do it your damn self and sip it while you laugh at the included storybook, which includes classic (and sadly accurate) lines such as: "Everyone was fast asleep, they didn't care one bit. They knew Mom would stay up late and finish all this shit."
Created by a dad, Reindeer in Here (a book and plush set) shows up after Thanksgiving as an early gift from Santa, hangs out with your child for the entire month of December (no reindeer relocation required!), and then is picked up by Santa when he stops by on Christmas Eve to deliver Christmas wishes … until next year, when he returns again.
Celebrating Hanukkah? Moshe the Mensch is here to bring levity to the Festival of Lights. Let the Mensch hold a Shamash candle each day, and each night, use it to light the Menorah. He also encourages kids to devote one night of Hanukkah to giving gifts to others rather than opening gifts themselves. Bonus: though the "Mensch Rules" do say to move him daily, they don't say he moves himself.
With an adorable hide-and-seek-themed storybook and included plush Olaf, your little Frozen fan will flip over this Elf alternative. And if you needed more incentive … all you do is hide him. Minimal effort for the win!
This one does require a teeny bit of effort, but not the kind that forces you to scour Pinterest or tax your brain. Instead, the storybook comes with a plush "sensei" to guide your kids in carrying out the special Ninja missions — 50 are included to choose from. For example: "Write down each and every thing you are thankful for this year," and "Bake a batch of delicious cookies with your parents and hand deliver them to someone who needs a treat."
Like the Elf, the Lazy Gnome reports back to Santa whether your kid's been naughty or nice. But where the Elf needs constant change, the Lazy Gnome prefers to stay in one place the entire time he's there — it says so in the included storybook. Genius!
If you're willing to step it up from a lazy gnome to an altruistic one, look no further than Heartley: the Gnome in your Home. Read the storybook, then encourage your kids to tell Heartley something kind they do each day — and do something kind with them, using the 30 "Kindness Cards" included for inspiration.
Every night during the holiday season, a different family member hides the magical mistletoe sprig someplace unexpected — and the person who finds it gets a kiss, wherever it was hidden. It comes with an illustrated book and keepsake box. This one's great for families or couples with no kids!
The Elf on the Shelf is great … for those willing to get creative every single night. For the rest of us, these lower-pressure alternatives can make the season brighter. Especially since we barely have to lift a finger.
Because everybody knows our fingers are busy with the ten million other things we have to do during the holidays.
Editors may receive samples and/or we may receive a share from purchases made via links on this page. All opinions are our own.
This article was originally published on