Elf On The Shelf Has A Cereal Now And There's Edible Glitter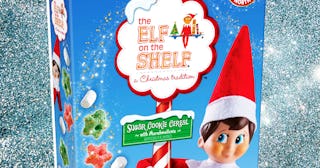 Kellogg and Magda Ehlers/Pexels
You kids will lose it for the new Elf on the Shelf cereal
It's almost that time of year for everyone's favorite Elf to make a reappearance in our homes, poised and ready to make us come up with lies on the fly when we forget to move them — The Elf on the Shelf. And what better way to buy ourselves a little time than by giving our kids their Elf in cereal form? Because Elf on the Shelf cereal is a thing this year.
According to the packaging, the cereal is a burst of red and green holiday colors, has a perfect marshmallow-to-cereal ratio, and tastes exactly like sugar cookies. It's also got edible glitter, which Walmart tells Scary Mommy is "a fun shimmer of gold on the cereal." Glitter we don't actually have to clean up? Tell us more.
Junk food news outlet Candy Hunting posted of the finding, "New Sugar Cookie cereal with Marshmallows (that happens to have Elf on the Shelf branding) will be out very soon in the US! It's already out in Canada," they said. "A resounding yay for sugar cookie cereal and a quick dash to hide under my bed for the creepy doll." Amen to that.
While Kellogg's doesn't mention this new heaven in a box on their website, Walmart confirmed the product will be available in their stores nationwide beginning early this November. It's currently listed on Walmart.com for $3.64, but you'll have to keep checking your cart to see when it will officially ship.
Just look at his smug face. He knows we don't stand a chance when our kids see this mug peering out from the cereal aisle.
According to Walmart, the Elf on the Shelf cereal will soon become a Christmas tradition, much like the character on the front. It's also the "official cereal on the North pole," so that'll at least impress your kids for three minutes. This cereal will definitely be on everyone's grocery list, along with every other Elf on the Shelf-themed candy and food item. Sure, it may be annoying to remember to hide the little creeper every single night, but our kids love it and it's the holidays, so what we want doesn't really matter.
It's the stuff of holiday magic with a good amount of sugar thrown in to keep our kids happy, so it's definitely Santa approved. Plus, it gives us one more place to hide our elf, so that's a win-win.
This article was originally published on