Woman Shares Heartbreaking Story Of Miscarriage And The High Cost Of Care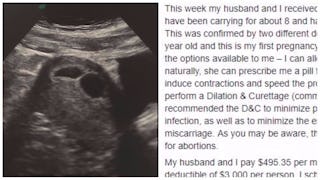 Image via Facebook
Medical care after a miscarriage should be affordable for everyone
The heartbreak of finding out the baby you're carrying no longer has a heartbeat brings with it a profound, deep sense loss. For many women, miscarriages don't always naturally occur, and medical intervention is often necessary to prevent infection. Elisa Mendes, who recently lost the twins she'd been carrying for over two months, shared her experience on Facebook and got candid about the high cost of care she required after she found out there were no longer two heartbeats.
"This week my husband and I received the devastating news that the twins I have been carrying for about 8 and half weeks no longer have heartbeats," she wrote.
"My doctor spoke with me about all the options available to me – I can allow the miscarriage to continue naturally, she can prescribe me a pill that is inserted into the vagina to induce contractions and speed the process of the miscarriage, or she can perform a Dilation & Curettage (commonly referred to as a D&C).
"She recommended the D&C to minimize pain, bleeding, and the chance for infection, as well as to minimize the emotional trauma of a prolonged natural miscarriage. As you may be aware, this is the same procedure that is used for abortions."
According to the American Pregnancy Association, after a miscarriage–if the body does not expel all the tissue–the most common procedure performed to stop bleeding and prevent infection is a D&C (dilation and curettage). Dilation refers to opening the cervix; curettage refers to removing the contents of the uterus. They report that approximately half of all women who experience a miscarriage may require a D&C.
It is undoubtedly a difficult procedure for any woman who has experienced this type of loss, but can be a medically necessary one. It can also be an incredibly expensive one. Which just makes the pain of miscarriage that much greater, as Mendes' story confirms.
"I received a call from the billing department from the hospital where my procedure would take place and found out that it would cost me $2,466.48.
"This is the 'discounted rate' that is negotiated with my insurance company, without insurance it would be upwards of $10,000. I would need to pay half of that $2,466.48 up front and the remainder would be billed to my insurance and I was told I could likely work out a payment plan.
"I want to know if you honestly think this is reasonable and affordable coverage, because I do not. To me it is outrageous that I should have to pay that much for a procedure that could save me from potential infection, intense pain, and extensive bleeding, especially one that in many other facilities can be done for much less."
Mendes looked into Planned Parenthood as a potentially more affordable option. The D&C cost at their office was $500, which is an astronomical difference in cost when compared to having the procedure performed in a hospital. She writes that while she and her husband are glad for the reduced cost, for many people even $500 is "prohibitively expensive." She was able to make an appointment with Planned Parenthood for the following week to ensure that she was not at risk for infection due to remaining tissue.
Through her grief, Mendes was able to bring home a strong point about the misconceptions surrounding Planned Parenthood, and shed light on why the availability of Planned Parenthood facilities is vital to the health and well-being of women and families. What is also very upsetting is that there is a high chance that there will be people out at Planned Parenthood with mean signs and yelling rude things."
She explains that protesters likely won't see "an utterly heartbroken woman who just lost two babies she has been carrying for months, who was so excited to be on the journey to motherhood."
The fact remains that Planned Parenthood provides affordable, safe medical care for all women. As Mendes shared, miscarriages can be incredibly expensive, adding financial stress to the emotional burden grieving parents face. Recently, Planned Parenthood launched a Pregnancy Loss program to provide miscarriage care consistently nationwide.
Mendes tells Scary Mommy that she's glad she shared her story. "It was really cathartic for me and my husband," she says. "Reading so many caring responses has helped my emotional healing process. I am also very pleasantly surprised by how many people have donated to Planned Parenthood through the post."
The harsh reality Mendes faced after her miscarriage isn't uncommon, and it's just one of a multitude of reasons why we need to fight the stigma surrounding Planned Parenthood. We need it to remain well-funded and open to all the women whose health depends on it.
This article was originally published on