Yes, Elizabeth Warren Even Has A Plan To Fix Your Love Life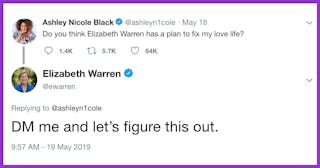 Ashley Nicole Black and Elizabeth Warren via Twitter
Presidential hopeful Elizabeth Warren hopped on Twitter to help comedian Ashley Nicole Black get her dating life back on track
As Elizabeth Warren continues her bid for her party's nomination for president, she's gained recognition for her smart, thorough, detailed policy plans, from her strategy to fight the opioid epidemic, to her plan for universal child care, to her blueprint to help kids pay for college. In fact, she has so much written policy in place, her thoughtful, meticulous planning and comprehensive problem solving is turning into a running joke.
Then, on Saturday, comedian Ashley Nicole Black tweeted a funny thought: "Do you think," she wrote, "Elizabeth Warren has a plan to fix my love life?"
The next day, Warren's official Twitter account answered: "DM me and let's figure this out."
"I knew I could count on you," Black replied.
She also tweeted a picture of the exchange, along with a few more thoughts about both her romantic life and Warren herself.
"I am deceased. And ready to welcome new love in my life," she wrote. "And then get our new pres elected. #shehasaplan."
Understandably, the internet went wild over the exchange, which really solidifies Warren's down-to-earth playfulness, as well as her ability to take a joke.
https://twitter.com/jetpack/status/1130157729400598528https://twitter.com/jetpack/status/1130157319084433409
https://twitter.com/jetpack/status/1130166283310440450
https://twitter.com/jetpack/status/1130161752992288768
It's not clear if Black DM'ed the presidential candidate, and if they chatted, what kind of plan Warren has in place for Black's dating life. But maybe some things are best left private.
And if you haven't heard of her, Ashley Nicole Black is a comedian best known for her work as a writer and correspondent on Full Frontal With Samantha Bee. In 2017, she won an Emmy for her writing for the show, and she's been nominated for two others before she left the program in February of this year. She's even been on a hilarious episode of Drunk History about Nichelle Nichols.
She's also a must-follow on Twitter, for her mix of humor and current events and politics. Most recently, she's known for the Noisemakers podcast on Spotify, which is about sexism and gender inequality.
Elizabeth Warren has been gaining traction in the Democratic primary as she releases a steady stream of detailed policy plans that her running mates simply haven't been able to replicate (in fact, many of them are just agreeing with her instead of writing their own plans). Most recently, she's released a plan to protect women's reproductive rights, including the right to abortion, as well as a plan to stop harmful defense lobbying.
She's also taken a couple of tough stances that other candidates have not: she is not seeking out big-cash donors and is instead taking donations mainly from normal Americans. And she's refusing to go on FOX News, stating that the station profits on hate and division.
Still she faces a tough road ahead – she's dealing with a lot of the same sexism that harmed Hillary Clinton's 2016 run, as people are afraid she's too serious, or not likable enough. But what we can tell from Twitter, she seems plenty likable to us. At the very least, she might have some good, comprehensive strategies on how we can find a meaningful romantic relationship.
This article was originally published on