Ellen DeGeneres Gives Video Update On Her COVID Symptoms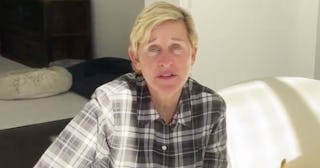 Ellen DeGeneres/Twitter
Ellen DeGeneres gives a video update a week after announcing she tested positive for COVID-19
A week ago, Ellen DeGeneres shared that she tested positive for COVID-19 and was quarantining at home, thereby shutting down her talk show that she had been filming during the pandemic. Though DeGeneres told fans she felt "fine" when she was diagnosed, she returned to social media on December 16, 2020 to update everyone on her recovery and although she's feeling pretty good now, she was blind-sighted with a surprising COVID-19 symptom: severe back pain.
In the video, DeGeneres looked relatively cheerful as she played Connect Four with wife Portia de Rossi, and tells fans that "I am feeling 100 percent. I feel really good."
Though she is now feeling much better, DeGeneres said when she was in the throes of it, she was surprised by how much her back ached. "One thing they don't tell you is you get, somehow, excruciating back pain," DeGeners said. "[I] didn't know that was a symptom."
"Who knew? How come?" DeGeneres added. "Back pain. Bad."
She said she spoke to some other COVID survivors who also experienced the same "excruciating back pain" too.
Body aches and pains have long been a known-COVID symptom, but many fans of the talk show host commented on her Instagram to say they, too, experienced the same issues with their backs.
The Ellen Show had been filming with a sparse and socially distanced studio audience and in-person celebrity guests since September 2020 and when DeGeneres announced her positive test result, her show went on hiatus again and DeGeneres stated that "anyone who has been in close contact with me has been notified, and I am following all proper CDC guidelines."
It's no secret that California is leading the country in COVID cases at the moment, and DeGeneres is just one of many California-based celebrities who have announced COVID diagnoses in the last week. Other talk show hosts who had been filming during the pandemic like Sharon Osbourne and Carrie Ann Inaba of The Talk just announced positive COVID diagnoses as well and singer Ashanti tested positive just hours before she was set to film an episode of the music battle series Verzuz. We have no idea how any of these celebs contracted the virus or if it had anything to do with the fact that they returned to work in Hollywood, but one thing is certain, if you screw up and don't follow COVID protocols in Hollywood Tom Cruise will scream at you, and you definitely don't want that either.