Ellen's Mom Speaks Out In Response To Her Daughter's Sexual Abuse Story
by Thea Glassman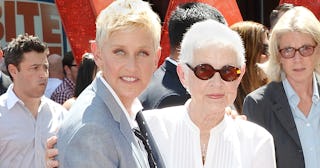 Jason LaVeris/FilmMagic/Getty
Ellen DeGeneres's mom has spoken out after her daughter shared painful story of sexual abuse
Last week, Ellen DeGeneres opened up and shared a gut-wrenching story of sexual abuse. She told David Letterman that her stepfather repeatedly assaulted her when she was only 15 and her mother Betty refused to believe her. Now, Betty is speaking out and expressing her deep regret for how she handled the situation at the time.
Betty released a statement to NBC News, after her daughter spoke publicly about this horrific experience. "I know now that one of the hardest things to do is speak up after being sexually abused," she said. "I love my daughter, and I wish I had the capacity to listen to her when she told me what happened."
Betty added that her decision not to believe Ellen has continued to haunt her. "I live with that regret, and I wouldn't want that for any other parent," she said. "If someone in your life has the courage to speak out, please believe them."
Many, many stories flooded onto Twitter about survivors who weren't believed by their own families while they were being abused.
https://twitter.com/jetpack/status/1134455761780793345https://twitter.com/jetpack/status/1134485200837046272
Ellen went into painful, heartbreaking detail about the abuse she went through. The talk show host explained that her mother was diagnosed with breast cancer and her stepfather used that as an excuse to sexually assault her.
"He told me when she was out of town that he'd felt a lump in her breast and needed to feel my breasts," she recalled. "Anyway, he convinced me that he needs to feel my breasts and then he tries to do it again another time, and then another time." Ellen was only 15 when the abuse started. She had previously told Allure that she literally had to run away from the house to get away from her stepfather. "I had to kick a window out and escape and sleep in a hospital all night long."
It took her a few years to share what was going on with her mother. "[The stepfather] said I was lying, and then she stayed with him," Ellen said. "So that made me really angry." Ellen told Letterman that her mother maintained a relationship with this man for eighteen more years until she finally left him because he had changed the story so many times.
Very understandably, she still has some unresolved issues with her mother to this day. "I didn't really let it get to me. Until recently, I kind of went, 'I wish I would have been better taken care of. I wish she would have believed me.' And she's apologetic, but, you know… " she said.
Ellen added that she chose to share this deeply private, painful story to advocate for young girls everywhere, explaining that it angers her that so many women aren't believed when they talk about the abuse they've suffered.
"I like men," the talk show host said. "But there are so many men that get away with so much, it is just time for us to have a voice. It's time for us to have power."