Ellen Surprises Same-Sex Couple Whose Family Refused To Attend Their Wedding
by Madison Vanderberg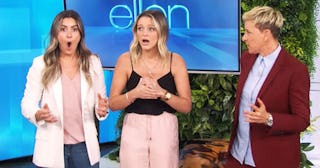 EllenTube
Ellen DeGeneres invites same-sex couple to propose onstage with their "chosen family" after one bride says her family doesn't support her relationship
The Ellen Show is usually a fun daytime mixed bag of precocious kids, viral internet stars, and celeb interviews — but every so often Ellen does something truly overwhelming that tugs at your heartstrings and reminds you that there is good left in the world. Kate Austin and Sarah Sulsenti from Philadelphia just got engaged and sadly, Kate's parents don't support her relationship or that she's gay and won't be attending her wedding, so the couple tweeted at Ellen asking her if she would attend their big day and walk Kate down the aisle.
"My parents aren't going to attend my wedding because they don't like that i'm gay!" Kate tweeted at Ellen. "I need someone to walk me down the aisle and someone else for a 'father/daughter' dance. plz come, my fiancée and i would cry."
Unfortunately Ellen can't be there for their big day, so she did the next best thing, she invited Kate and Sarah and their "chosen family" onto the show to give the girls a chance to propose again surrounded by the friends and family who do love and support them.
The ladies got engaged earlier this month, with Kate getting down on one knee, so on The Ellen Show, it was Sarah's turn to have that honor. The women were surrounded by their family and friends and there wasn't a dry eye in the place.
The gesture clearly meant a lot to the women as Kate told Ellen that "my mom was really terrible. I've been out for five years now, and she's said everything you can think of under the sun."
Kate also told Ellen what it means to share her story on the show, saying, "If it wasn't for someone like you, I would have never had the courage to just go out there in public and propose to my fiancée. So many people don't accept that. You paved the way for queer women everywhere."
Ellen teared up at this and then Kate exclaimed that despite the rejection from her parents, coming out is the best thing she ever did. "Coming out and owning it and growing over the last five years has been the greatest gift," Kate said. "I am so thankful that I came out, it taught me courage and owning who I am and it allowed me to be my authentic self."
We feel for Kate and the tragedy of her parents' rejection, but after her big moment on Ellen, she tweeted, "i'm so happy i can't stop crying" and that is something to celebrate.