Emily Blunt On Expecting A Second Child: 'I Forget That I'm Even Pregnant'
by Maria Guido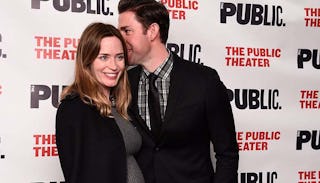 NEW YORK, NY - MARCH 22: Emily Blunt and John Krasinski attend "Dry Powder" Opening Night at The Public Theater on March 22, 2016 in New York City. (Photo by Ilya S. Savenok/Getty Images)
Emily Blunt admits the second pregnancy is wildly different than the first
Pregnancy is such a deeply personal experience — and changes from woman to woman. One person's experience looks nothing like another's. But, for those of us who have more than one child, we can probably agree that barring any medical difficulties, the first pregnancy was waaaaay easier. Being pregnant without an additional child or children to rear is a totally different endeavor than being a pregnant "mom."
Emily Blunt touched on this in an interview with C Magazine this week. The actress is currently pregnant with her second child with husband John Krasinski. She admits the second time around is a pretty different experience than the first.
"The first pregnancy is the most self-indulgent thing in the world because you get massages and prenatal yoga and hypnotherapy CDs. During this one I forget that I'm even pregnant. I'm hoisting my 2-year-old around!"
It's true. Even if you're not getting all that stuff — massages, prenatal yoga, and whatever — you still have the ability to take a nap whenever you want. Or go to a movie. Or do something that doesn't involve being pregnant and also caring for another human.
If you are currently pregnant with your first child and thinking, "This isn't true! I haven't done any of that stuff!" Well, what the hell are you waiting for? Here's a piece of advice: if you don't relate to Blunt's comment because you haven't done anything "self-indulgent" — do something, STAT. Spoil yourself, in whatever way you can afford to.
You are about to have a baby, and that is a wonderful thing. It also means that you are going to have a little being attached to your hip for quite a while. Even if you are in the throes of pregnancy, feeling tired, bigger than ever, and sluggish — indulge yourself a little. In any way you can. Try to realize that this may be the last time for a long time that you will be able to think of yourself first. Take advantage of it!
Be selfish. You're making a whole human — you deserve it.