Emily Ratajkowski Feared Career Failure If She Shared Robin Thicke Story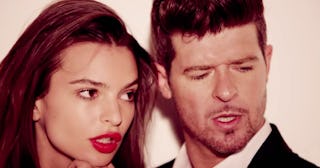 Robin Thicke/Youtube
Emily Ratajkowski explained the harrowing reason why she waited eight years to tell the world that Robin Thicke had allegedly assaulted her on the set of his "Blurred Lines" video
Content warning: This article discusses sexual assault.
After bravely coming forward to share that singer Robin Thicke allegedly assaulted her on the set of his 2013 hit "Blurred Lines," Emily Ratajkowski has addressed the many hateful online commenters who have loudly wondered why she did not share her story for eight years. Before we proceed, it's worth pointing out right from the jump that survivors of sexual abuse or harassment do not owe us anything, and should they choose to share their stories, there is no wrong way or time to do so — no matter the method, it's a brave, empowering step that no doubt helps other survivors feel less alone in what they might have experienced.
As for Ratajkowski, she told People why she didn't initially come forward. "I was an unknown model and if I had spoken out or complained, I would not be where I am today, I would not be famous," she shared.
FWIW, the "Blurred Lines" video helped catapult the young model to global fame, and it was after her appearance in the video that she began walking on runways, appearing in ad campaigns and feature films, and secured her spot as one of the most in-demand models of the Instagram era. It's absolutely devastating both that she was sexually assaulted and that she felt she had to stay silent in order to protect her career aspirations.
The 30-year-old says she decided to share her story in her forthcoming debut book My Body in the hopes that readers would understand the "nuance behind these kinds of situations." She told People, "I wrote a book about the evolution of my politics and that includes a lot of different experiences from my career and my life and the way that I felt and thought about those experiences have evolved. I hope people are able to read the essay and understand the nuance behind these kinds of situations."
In the book, which will be released on November 9, Ratajkowski describes in harrowing detail what happened to her on the set of the video, revealing that Thicke returned to set reportedly under the influence of alcohol to film with her one-on-one. "Suddenly, out of nowhere, I felt the coolness and foreignness of a stranger's hands cupping my bare breasts from behind," she wrote. "I instinctively moved away, looking back at Robin Thicke. He smiled a goofy grin and stumbled backward, his eyes concealed behind his sunglasses. My head turned to the darkness beyond the set. [Video director] Diane Martel's voice cracked as she yelled out to me, 'Are you okay?'"
Martel corroborated Ratajkowski's story to The Sunday Times, sharing, "I remember the moment that he grabbed her breasts. One in each hand. He was standing behind her as they were both in profile. I screamed in my very aggressive Brooklyn voice, 'What the fuck are you doing? That's it! The shoot is over!'"
She shared that "Robin sheepishly apologized, as if he knew it was wrong without understanding how it might have felt for Emily." Of her immediate reaction, Ratajkowski heartbreakingly said, "I pushed my chin forward and shrugged, avoiding eye contact, feeling the heat of humiliation pump through my body. I didn't react — not really, not like I should have."
Thicke hasn't yet commented on Ratajkowski's account (surprise, surprise), but we're so saddened to hear both that she had that experience and that she felt she couldn't talk about it openly. We wish her nothing but healing and the knowledge that her story will definitely help others feel a little less alone.
If you or someone you know have experienced sexual assault, you can reach the National Sexual Assault Hotline at 1-800-656-HOPE.