This Emotional Wedding Photo Is Melting The Internet's Heart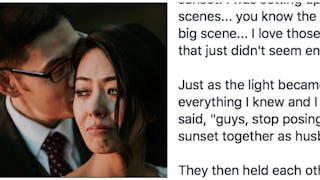 This wedding photo is so emotional it made even the wedding photographer cry
Wedding photography has come a long way since the days of awkward and forced smiles, with the wedding party smooshed around a hot and sweaty couple while everyone just bides their time until they can get to the party. While all wedding photos are sweet and lovely – even those awkward portrait photos – an Australian photographer's viral photo proves that it's those un-staged moments of raw emotion that really capture our hearts.
On April 30, James Day was shooting wedding photos of Adrian and Roslyn at sunset. Even though the light was amazing and the scene was set for the traditionally gorgeous shots that everyone loves, he decided to scrap his plan and do something different. While he usually loves the sunset shots, he said that night it just didn't seem like enough.
After shooting the couple from a distance for a while, Day realized that he wanted to get up close and tell their story in a unique story. So instead of continuing to take photos of the couple against the backdrop of an impressive sunset, he focused on the couple. In a viral Facebook post, Day wrote that he walked up to them and said, "Guys, stop posing. Just enjoy your first sunset together as husband and wife."
The couple held each other in a way that was "more beautiful than anything [he] could ever set up," so Day told Adrian he wanted to ask him a question, but that he wanted him to tell only Roslyn the answer.
His question: "Out of the billions of people on the planet, you've chosen to spend the rest of your life with Roslyn. Can you tell her why?"
As Adrian whispered his answer in her ear, Day saw Roslyn's eyes glisten and then "the most beautiful tears streamed down her face." Before long, even Day was crying.
The photo has been shared more than 52,000 times, has more than 231,000 likes, and has prompted millions of tears. Excuse me while I grab a tissue, because this photo has turned us all into a teary mess.
Day also shared some of those "sunset shots" he was shooting before he decided to go in another direction, as well as some of the tender moments between the couple.
While there's no doubt that all of the photos are gorgeous, the beauty of a grand sunset is no match for the beauty of love and human emotion.
"I had him whisper it in her ear because it's for her ears only," Day told the Huffington Post. "I like that they were able to share that moment privately ― well, until it went viral on the internet."
As for what Adrian said to Roslyn…well, only they will know. "Everyone wants to know what he said, but I don't even know and I don't want to know," Day told Scary Mommy in an email. "It would ruin it for me. Sometimes it's nice being left with questions and asking yourself, what would I say to my partner?"
The photo reminds us that the real beauty of a wedding is the connection between the couple, not the two hundred guests clinking glasses, and that it's the intimate moments of vulnerability and raw emotion that are the most precious of all. Besides, who doesn't love a good love story?
"Oh Love," Day wrote. "You are oh so precious."
Indeed.
This article was originally published on