Couple Celebrates Their 'Empty Nest' Status With A Photoshoot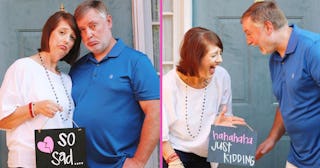 Haley Marie Photography
You could say that these new empty nesters are not exactly heartbroken to start this new chapter in their lives
We are all too used to the common photo shoots: engagement, pregnancy, wedding, new baby. But what about all the other new chapters in life that go without a trip to the photographer and subsequent excited social media post? Enter Amy and Randy English, who were more than ready to celebrate their new phase: having their lives and their house back after their youngest kid flies the coop.
Luckily for them, their daughter, Haley Marie Jones, wasn't just moving out of the house, she was also in the beginning stages of running a new photography business, in addition to being a full-time nanny. The resulting empty nester photoshoot was so hilarious that it went viral fast, clocking in 85,000 comments and 215,000 shares on Facebook in the last week.
"Most parents are a little sad when they hit the 'empty nest' phase of life," Jones wrote in the caption. "HOWEVER, my parents seem thrilled. Also, how cute are they??!!"
The empty nest photo shoot starts out pretty sweet — just a couple entering their golden years at home.
But then things get funny pretty fast, with the "Expecting 0 kids" sign. We love the detail of the giant ZERO balloon.
Ouch. Then it gets just a little bit mean, but in a pretty hilarious way. "Our favorite kids," the next sign reads, as the couple poses with their two dogs, who aren't going anywhere.
Are they a little bit sad? They are not at all sad. They are thrilled.
Before you start feeling bad for their kids (they have three), we'd like to reiterate that their youngest daughter, who moved out this weekend, was in on the joke and took the pictures herself.
The 22-year-old, who's a nanny, is moving from the family home in Pontotoc, Mississippi, to Oxford, where she'll focus on her job as well as her small photography business — which, since these photos spread, is suddenly booming.
"We decided to do this photoshoot when I signed my lease in March," Jones tells Scary Mommy. "I wanted to take a picture of my mom and dad outside of my apartment buildings' offices and she suggested we wait and do an empty nester photo shoot. We had never seen one so we just threw it together! The funny signs were ALL my mom's idea and I think that's what really made the pictures so funny!"
Since the photos have gone viral, everyone is somehow even happier than they were before.
"We are very thankful for all of the attention this has gotten," Jones tells us. "It's doing great things for my business! I did not expect these photos to get so much attention. Maybe 20 likes at most. I am just now starting out professionally, and when I woke up [the next] morning I had thousands and thousands of shares, comments, and new page likes, which means the world to me! My business is getting out there which means I will be doing more of what I love! It's truly surreal and I am very grateful."
It sounds like Jones was far from a pain to her parents — they get along great. But everyone is looking forward to what's next, and no one could have done it alone.
"I do photography on the side, I have always had a passion for it and my parents pushed me to start my own business and I am forever grateful for that," Jones said.
This article was originally published on