'Encore!' On Disney Plus Shows The Life-Changing Magic Of High School Theater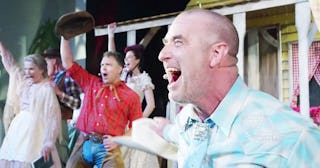 Disney/Youtube
'Encore!' will make you laugh, cry, and will help you work through all your remaining high school issues
High school theater is such a uniquely beautiful thing. Ask any "theater kid" about their high school experience, and you're likely to hear how drama club was a safe haven of sorts for anyone who felt like they didn't belong. The bottom line is, being involved in theater in your youth can profoundly change you for the better. Encore! on Disney+ is a love letter to high school musicals, but it's a show for the whole family.
There are very few perfect hours of television, but somehow Encore! nails it every single week. Produced by the musically inclined and beloved Kristen Bell, Encore! reunites the casts of high school musicals from 12, 15, and 20 years ago (or more) to come together once again within the walls of their alma mater and put on the show once again.
But of course, there's a catch: they have five days. FIVE DAYS. That's less than a week to re-learn lines, nail the choreography, and belt out musical numbers they haven't sung in decades. But each cast gets a helping hand from a renowned Broadway director, choreographer, and professional Broadway chorus members to ensure their production doesn't fall as flat as those high notes.
As with any group of people that attended high school together, each part of the spectrum is represented in most episodes: the homecoming queen, the jock that auditioned out of boredom, the spurned lover looking to seek revenge (if you want to overdose on cringe, watch the "Annie Get Your Gun" episode first), the "ladies' man," the drama queen, and the quieter misfits with heart-wrenching stories to tell. In the first episode, where the cast of a 1996 California high school class performed Annie, two classmates are recalling their glory days fondly when another student mentions that he was physically assaulted at school for being gay — and no one in the cast knew.
One central glue that holds many of these former classmates together is their collective love of the drama teachers they had back in high school. For many of them, these teachers acted as surrogate parents to children who needed emotional (and at times, financial) support from an adult — and they found it at school. In an episode set at Saginaw High School in Texas, the drama teacher describes paying for the cap and gown of a student who almost dropped out of school before auditioning for Beauty and the Beast. Another drama teacher let a student who was battling cancer take naps on her classroom couch.
If you've ever been involved in theater — whether in high school, college, or even at the community level — you know this level of kinship and sense of belonging is almost more important than the performance itself.
But if you're not a self-described "theater kid," fear not — this show is as hilarious as it is touching. Who wouldn't want to watch a bunch of moms and dads stumble through show tunes and dance moves they haven't done since Bill Clinton was in office?
Speaking of the moms and dads in this show, the true highlight of every episode is, of course, the big show. The scenery, costumes, lighting, and acting all come together to make for a genuinely entertaining and impressive performance. But it's the audience that really steals the show — specifically, the children of the "actors." Watching the faces of these kids totally light up as they watch their mommies and daddies as Belle or Captain Von Trapp is a guaranteed tear-jerker.
So many of the high school musical alums share how becoming a parent means their interests (like acting) have been put on the back-burner for the foreseeable future. Many of them had dreams of Broadway, and a few of them even made the big move to the Big Apple to give it a go. But, as we can all relate to, once you decide to have children you're also deciding to put their needs first.
But what Encore! really gives viewers, aside from a solid hour of non-stop engrossing entertainment, is the knowledge that our children need to see us, their parents, doing something that brings us joy. Something that is completely unrelated to who we are as parents. Maybe it's acting or singing, maybe it's something completely different. But they need to see that — they need to see us. Because it'll ultimately help them have the confidence to figure out who they are and what they love someday, too.
Sign up to Disney+ for $6.99 a month to view Encore! and much more.
This article was originally published on