Trump Administration Weakens Endangered Species Act Because, Money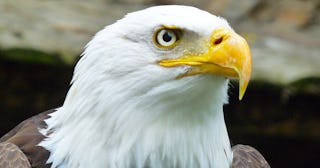 tof Mayanoff/Unsplash
The Trump administration has overhauled the Endangered Species Act to benefit energy companies and other land developers
On Monday, August 12, the Trump administration rolled out their long-planned overhaul of the Endangered Species Act, and it's bad news for animals and plants, but great news for oil companies and other developers.
Animals that are currently considered threatened or endangered, like polar bears and orcas, are still protected and safe, however, the new ruling now makes it easier to remove recovered species from the protected list. Additionally, when a species is added to the list, they won't automatically get the same protections as current endangered species, and the department has changed how they set aside habitats for threatened and endangered species to thrive and rebound.
In a press release from the US Fish & Wildlife Service, Interior considers the changes to the Endangered Species Act, which was first passed in 1973, a necessary modernization, now that we've recovered so many once-endangered species like the bald eagle, despite the fact that their recovery only makes them at-risk once again.
The big motivator behind these changes is that the Interior Department can now consider economic factors when making decisions about what kinds of protections a threatened or endangered species might get. Now, when the Interior decides to change a species' designation, they have to include if there was any economic motivation to do so. In the previous incarnation of the ESA, discussing economic factors when putting together the endangered species list and their designated critical habitats was prohibited.
All this really means is that energy companies, home builders, and other businesses are annoyed that they can't build businesses and erect oil drills wherever they want because the government is protecting land that belongs to certain endangered species and fauna. If the government loosens their ESA restrictions, that opens up the possibility of building on land that was previously protecting endangered plants and animals.
"This effort to gut protections for endangered and threatened species has the same two features of most Trump administration actions: It's a gift to industry, and it's illegal," Drew Caputo, vice president of litigation at Earthjustice, said in a statement (via HuffPo). "We'll see the Trump administration in court about it."
In a press release from the US Fish & Wildlife Service, the Interior can only consider "the best scientific and commercial information regarding a species' status" when determining whether to add or remove a species from the list. Many environmentalists have interpreted this to mean that the Interior Department won't have to consider climate change when they make decisions about a species' fate.
"It means that in all likelihood that the federal government itself and individuals will be damaging the habitat and likely increase the timetable and likelihood of a species going extinct," David Hayes, executive director of the State Energy and Environmental Impact Center and a former deputy of Interior told The Hill.