Hollywood Is Reaching Out To Marginalized Communities With A New, Celebrity-Backed School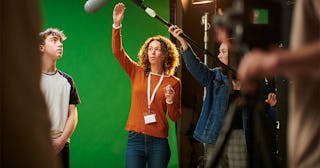 sturti/Getty
We hear conversations about the lack of people of color working in the entertainment industry all the time. And now, some people with deep pockets are finally doing something about it. A group of Hollywood heavyweights, lead by George Clooney and including Don Cheadle and Kerry Washington are working together to fund a new magnet high school in Los Angeles that will target students of color for "below the line" jobs — largely craft-based jobs like carpentry and camera operation. These jobs are largely held by white people, and the school will help to break up the racial monopoly.
"Right now is a perfect time to get people to participate, because right now their eye is on the ball," George Clooney said in an interview with the Los Angeles Times. "It doesn't make sense that Los Angeles of all places, ground zero for Hollywood, isn't more of a part of this movement to get more underrepresented people into the pipeline."
Currently, the school — the Roybal School of Film and Television Production — is set to begin as a program in the 2022 school year. As of right now, the program is geared to ninth and tenth graders, but it will expand to eleventh and twelfth grades within two years. And if it is successful, it could expand to other Los Angeles Unified District schools. As someone with a background in the entertainment industry, I can attest to how much a program like this is needed for students of color.
A lot of people don't know this, but I spent my entire adolescence training to be in the entertainment industry as an actor. I started with children's theatre in elementary school, which led to an intermediate school with a magnet program with a focus in acting. After that came a specialized public performing arts high school, followed by going to an arts college and getting a BA in theatre. But as a Black woman in the mid-00s, there weren't many opportunities for me in the professional acting world, and I quickly grew tired of the constant rejection.
I was incredibly lucky that I, a Black girl from a low income family, was able to find information about these schools and programs. The biggest reason is because I have supportive parents. Having familial support really is the first step to being able to pursue work in the entertainment industry, no matter what job. Black and Latinx families don't have enough knowledge about what kind of jobs exist within the industry.
"There are 160,000 union jobs below the line in the entertainment industry — 750,000 if you include digital work and all the other things," Bryan Lourd, the co-chairman at C.A.A., told The New York Times.
Representation and visibility are incredibly important when it comes to access. One of the main reasons kids of color don't know these jobs exist is because they're not something we as the general public hear about. Of course we hear about actors, directors, even screenwriters. But we never hear about the director of photography or the film editors. We know the phrase "lights, camera, action," but we fail to remember that those are all jobs people have to do. No one ever sits through the movie credits long enough to see the dozens of jobs that are available to them. Connecting students to people in these industries is the first step in helping them realize that not only do these industries exist, but they themselves can have those jobs.
As someone who came up through a high school that focused on the arts, I still had no idea of how many other types of jobs exist in the entertainment industry. We were often tasked with helping with things like lighting, sets, costumes, etc, but no one ever talked to us about how we could translate those into jobs one day. It wasn't until I got to college that I knew people could have those jobs. And that's because we were required to take stagecraft classes.
"They [students] have no idea how you might start to become a grip or a consumer or a screenwriter," producer Nicole Avant told The New York Times. "They're like, 'Where do I send my résumé? How the hell do I start?'"
Eighty percent of the population served by L.A. Unified is living in poverty. Eighty-three percent of the district's students are Latino or Black, according to data shared by the L.A. Times.
"Charity is no substitute for justice," Linda Darling-Hammond, president of the California State Board of Education, told The New York Times. "It's great that people are making these investments, but we have a bigger job to do."
My biggest question/concern regarding this school is this: how will the school help them gain access? Because it's great to teach them about rigging and lighting and all that, but how will they help them get to those jobs? According to Grant Heslov, Clooney's producing partner, students will have help getting into those entertainment industry jobs.
"At the end, kids will be coming out learning the skills they can use to get into the industry or go into college if they want to pursue further coursework," he told the Los Angeles Times.
But that doesn't address the financial barriers students of color face. Is there going to be some sort of internship program? Will they have mentorship opportunities? Will there be ways for kids to go directly from their high school and begin working in these jobs right after graduation? Because many low income students may start working even before they graduate high school. If they have four years of learning a specific trade in the entertainment industry, they should be able to go straight from graduation to being able to get a job in the field they've been training in.
And what about those kids who want to go to a college to study at a higher level? Yes, there is acknowledgment that these kids are low income, but how will the school enable them to pursue higher education? Because while visibility is a huge issue, the biggest barrier is money. Kids living in proximity to poverty cannot afford to go to the University of Southern California or Emerson College. So how will the school address that inequity? It's not enough to give them the training they need to understand these jobs, they also need to put them on a direct path for success. The only way to do that is to put money in their pockets.
Parents don't want to see their children struggling. And while there is a lot of struggle and uncertainty in the entertainment industry, these kinds of jobs offer far more stability than something like acting would. Sets always need carpenters and electricians. They're so important that no one can plug in a light except them. You can't make a film without camera operators. Some of these jobs are very similar to trade school jobs, but they're in a more specialized area of expertise. At times, working in the entertainment industry can be incredibly scary financially. But if you're working, there are unions that could help provide safety nets during those times of difficulty.
Right now, because of how few Black craftspeople there are on sets, those with the proper training would be working all the time. I've read about some of the on-set struggles that Black actors face. They need Black hair and makeup people on set, because their hair is a mess and their makeup is mismatched. Black kids are here sharing their glam on social media and can translate that into a career. You can have some of the best camera people in the world, but many of them don't know how to light for Black skin. But if you have a Black person working on lighting, they will make sure that the actor is well lit. We don't think about how those little changes are actually really big changes that will lead to the vast improvement of films and TV shows – not to mention the lives of the POC who will be filling these roles.
"Everyone is recognizing that the industry needs to do better," George Clooney told The New York Times. "There's a moment in time where it gets easier to do things."