35 Cartoons From the 2000s That'll Take You Way Back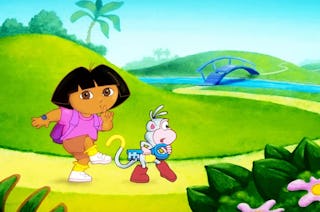 ©Nickelodeon Network/Courtesy Everett Co/Everett Collection
Cartoons from yesteryear just hit different, you know? Think about '90s cartoons or 2000s cartoons that you watched when you were a kid. Cartoons of today have nothing on those so many of us watched as kids. Rugrats, Doug, The Animaniacs — the 1990s were lit. But when we headed into the 2000s, it was just as good. Cartoons from our childhoods, especially forgotten 2000s cartoons, were what got us through afternoons of babysitting. For older millennials, 2000s cartoons were what bonded so many parents with their own kids.
There's something to be said for the nostalgia in TV and movies. A reboot from the 1980s and 1990s is OK from time to time, but nothing beats the original. Not only is the original always better (don't argue), but the memories tied to the original make it that much sweeter. Who doesn't have a core memory tied to watching Beverly Hills 90210 a million years ago? That's worlds better than the rebooted version of the show, you know?
Revisit more of your core memories when you take a look back at these 2000s cartoons. And if you find yourself looking them all up on streaming services to watch them all over again, just know that you're in good company.
Best 2000s Cartoons
1. As Told By Ginger (2000-2006)
Ginger (voiced by Melissa Disney) is your typical middle school kid who just wants to be cool but can't really figure out how to accomplish that. Her friends are a mix of nonchalant and low-key desperate, making for an interesting cast of characters. This show has a strong relatability factor for preteens and even teens struggling to find their crowd and themselves both in school and out.
2. Clifford The Big Red Dog (2000-2003)
There have been plenty of iterations of Clifford, from the books to movies and even the animated series that aired in the early 2000s. John Ritter voiced Clifford in this series, with stars like Cree Summer and Kel Mitchell also lending their voices to characters who are part of Clifford's life. As for the story, you know how it goes — Clifford and his bestie Emily Elizabeth are always finding something to do on the island, including being upstanding citizens and spreading kindness.
3. Pelswick (2000-2002)
Pelswick might be a cartoon that slipped under the radar at your house, and it's worth looking up. Our main character, Pelswick (voiced by Robert Tinkler), is a teenager in a wheelchair who's not too different from everyone else in school. He still has the same trials and tribulations that teenagers go through, including dealing with mean kids, but he's a pretty bright kid who is looked up to by his peers. This show is a really family-friendly way to discuss disabilities and emphasize that no one should be treated differently for them.
4. Dora the Explorer (2000-2019)
Did you even realize Dora the Explorer isn't on the air anymore? Well, this show is never actually going anywhere, but there are no more new episodes. Dora (voiced by a handful of different actors over the years) and her trusty friend Boots spend each episode trying to accomplish a task — and stay away from Swiper! The show is fun and interactive and invites viewers to help her make it through her adventure. It's also the reason "Swiper, no swiping" will always be a thing.
5. Teacher's Pet (2000-2005)
Teacher's Pet is about a dog who wants to be a real boy, just like his nine-year-old companion, Leonard. So the pup disguises himself as a little boy so he can attend school and do everything other human kids do. The series centers around Spot maintaining his identity while getting wrapped up in wild adventures with his best friend, Leonard.
6. Baby Looney Tunes (2001-2005)
Before Bugs Bunny chewed on full-grown carrots or drove Elmer Fudd up the wall, he and the gang were all babies. Baby Looney Tunes is the series prequel of all your classic animated pals. Each episode shows the Looney Tunes crew's early years when they all lived under one roof with Granny.
7. Aqua Teen Hunger Force (2000-2015)
Was this show really meant for anyone under 16? Probably not. But that's part of what made the often inappropriate misadventures of a trio of anthropomorphic friends — a milkshake, French fries, and a ball of ground beef — so appealing to younger teens.
8. The Fairly OddParents (2001-2017)
This Nickelodeon show follows a 10-year-old boy named Timmy Turner with two fairy godparents, Cosmo and Wando, who grant him wishes to help solve his everyday problems. Most of those granted wishes go comically awry... but there's usually a valuable lesson hidden in the chaos.
9. X-Men: Evolution (2000-2003)
You can never really go wrong with Marvel's favorite band of mutants, and this incarnation was particularly fun because the beloved characters were teens. The first season introduced the core characters, while the second season adds some of the "newbies" we all love like Beast and Jubilee.
10. Corduroy (2000- )
Based on the 1968 children's book by the same name, this Canadian animated TV series centers on a childlike teddy bear who lives in New York City with his best friend: Lisa, an American schoolgirl. All of the classic characters from the book are represented, too, including Buckaroo the rocking horse.
All the Other 2000s Cartoons You Should Revisit
Generation O! (2000- )
Max Steel (2000-2002)
Buzz Lightyear of Star Command (2000-2001)
Poochini's Yard (2000-2003)
Marvin the Tap-Dancing Horse (2000- )
Seven Little Monsters (2000-2003)
Timothy Goes To School (2000- )
George Shrinks (2000-2003)
Braceface (2001-2006)
Between the Lions (1999- )
House of Mouse (2001-2003)
Totally Spies! (2001-2014)
What About Mimi? (2000-2002)
Kong: The Animated Series (2000-2001)
Jackie Chan Adventures (2000-2005)
Baby Blues (2000-2002)
Static Shock (2000-2004)
The Weekenders (2000-2004)
For Better or for Worse (2000- )
Rainbow Fish (2000- )
A Miss Mallard Mystery (2000-2001)
Eckhart (2000- )
Anne of Green Gables: The Animated Series (2001- )
The Bellflower Bunnies (2001-2008)
What's With Andy? (2001-2007)
This article was originally published on