The 2023 World's Ugliest Dog Has Officially Been Crowned
But, he's actually kind of cute?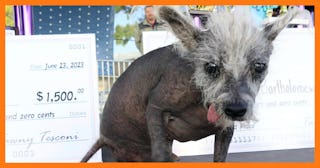 picture alliance/picture alliance/Getty Images
Meet Scooter, the 7-year-old hairless Chinese Crested dog who won the 2023 World's Ugliest Dog contest last week in Petaluma, California. Though deemed the ugliest dog in the world, some animals lovers (aka me) may argue that he's actually very adorable and not "ugly" at all.
Scooter — who is also bald with backward-facing legs — earned the title of "World's Ugliest Dog" nearly ten years after he was saved from the prospect of euthanasia due to his birth defect. A breeder brought Scooter into a kill shelter to be euthanized in Tucson, Arizona, according to Today.
Luckily, the Saving Animals From Euthanasia (SAFE) rescue group stepped in and intervened to save his life.
Scooter's owner, Linda Celeste Elmquist, also happens to be a member of SAFE. She adopted Scooter — whose tiny pink tongue tends to dangle out the side of his mouth — seven months ago. His previous owner could no longer care for the unconventionally adorable pup so Elmquist stepped up.
According to his bio on the Sonoma-Marin Fairgrounds website, rescuer workers had doubts about Scooter's mobility, wondering if he would ever be able to crawl or walk freely by himself. However, proving everyone wrong, he soon began using the strength of his front legs to propel himself forward.
"He has no idea that he is any different from any other dog," Elmquist wrote in Scooter's biography.
"Swaying side to side, he takes on obstacles — stones, curbs, steps — and then throwing his back end to the sky, in one final swoop — he conquers!"
It's exhausting being the ugliest yet cutest weird-looking dog. While Scooter can get himself around when he wants to, he also has a wheeled cart — bought for him with funds donated by friends and rescue groups — that he uses to literally "scoot" from place to place.
NBC's Gadi Schwartz, who served as a judge at the contest thought Scooter deserved all the accolades.
"From the second he sits his hairless little booty and backward legs on your lap, you feel his warm, huggable power to change the meaning of the word ugly!" Schwartz says.
"He leaves you feeling love and inspiration for the differences, difficulties, perseverance and happiness that he radiates like a little heater! Even when he's gone you can't help but smile thinking of that sideways tongue hanging out his tiny precious mouth. (He also smells so much sweeter than he looks!)."
In 2022, the contest returned after a two-year break due to the pandemic. A dog named Mr. Happy Face — who donned a hilarious white mohawk hairstyle — won the $1,500 prize and trophy.
The World's Ugliest Dog Contest started over 20 years ago, designed to inspire love for all animals, especially rescue pets that may have some oddities about them.
"While the World's Ugliest Dog contest is a celebration of the imperfections that make our dogs lovable, a good many of them are rescues from shelters and puppy mills, so we use the fun and notoriety of this competition to raise awareness for dog adoption," Tawny Tesconi, CEO, Sonoma-Marin Fairgrounds and Event Center, said in a statement.
"Dogs are like family and deserve loving homes no matter their physical distraction."