ABC News' Dax Tejera's Wife Charged For Leaving Kids Alone Before Husband's Fatal Heart Attack
Veronica Tejera faces two charges of child endangerment.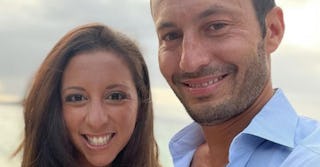 Instagram / @daxtejera
ABC News producer Dax Tejera and his wife —Veronica Tejera — left their their two children alone in a hotel room in the hours leading up to Dax's fatal heart attack, and now Veronica is facing charges for the decision.
In a statement shared with Entertainment Tonight, the 33-year-old, who is now facing criminal charges of child endangerment, said she made a "poor decision" by leaving their 2-year-old and 5-month-old daughters alone on the evening before Christmas Eve.
"My family and I are devastated by Dax's sudden passing. He has left behind a heartbroken family, and two daughters he loved with all his heart," Veronica began.
She then explained her reasoning for leaving her daughters alone, omitting allegedly leaving the children before her husband's fatal heart attack to go eat at a steakhouse down the street. The couple allegedly left the girls unattended, but monitored by phone, at the Yale Club Hotel while they went out to dinner with friends at Bobby Van's Steakhouse (a restaurant around the block) before he suffered a heart attack.
In the statement, she assures that she had camera with wi-fi with footage streaming of the girls sleeping going continuously.
"When Dax collapsed on December 23rd, I accompanied him in an ambulance to the hospital. I asked both a close friend and my parents to rush to my children's hotel room to attend to them as I monitored them by camera. The hotel would not allow my friend in and instead called the NYPD," the statement continued.
"We had two cameras trained on my children as they slept, and I monitored them closely in the time I was away from them. While the girls were unharmed, I realize that it was a poor decision."
Veronica added, "Our family has suffered a terrible tragedy. I respectfully ask for privacy while my children and I mourn Dax's death."
According to Variety, Veronica was arrested and charge with two counts of "acting in a manner injurious to a child."
While Veronica insists that she was monitoring her children closely through the video monitor, NYPD investigators revealed that it appears the girls were left inside the hotel room "for an extended period of time."
Veronica is due in Manhattan Criminal Court on Jan. 12.
After Tejera's sudden passing, condolences poured in from colleagues and loved ones.
"It's with a heavy heart and great sadness that we share that our friend and colleague, Dax Tejera passed away suddenly of a heart attack last night," ABC's Kim Godwin wrote in a statement.
"As executive producer of This Week With George Stephanopoulos Dax's energy, passion and love for that show, ABC News, and you, shined every Sunday morning. That same love was extended to his precious girls. Our thoughts are with his wife, Veronica, the couple's two young daughters, and the entire Tejera family."