Britney Spears Has Words For The Trainer Who Said She Needed Her 'Younger Body Back'
And to celebrate, she showed some bare-belly moves on Instagram.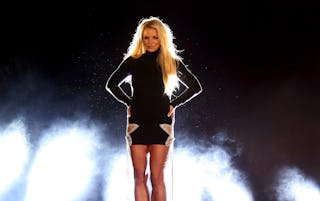 Gabe Ginsberg/FilmMagic/Getty Images
One of the most problematic parts of the diet and beauty industries is that they send a false message to women that they can and should look the same as they did when they were 20 years old — for their entire lives. And that aging, children, and living life shouldn't permanently change your body. They try to sell women every product and program under the sun so that we can try — and fail — to keep looking young forever.
Well, Britney Spears, for one, isn't having it.
The 41-year-old songstress and pop icon recently shared on Instagram on Monday that she was in the market for a new fitness trainer, but got turned off as soon as the trainer tried to make the sale via fat-shaming and unrealistic expectations.
"I took the time 2 months ago to find a trainer and the first thing she did to me was literally … and I'm not even lying … pinch the skin on my stomach and legs and told me I need to get my younger body back," she shared. "Why the hell did she do that ??? It made me cry … I obviously didn't hire her so I did it myself !!!"
Spears posted the story next to a video of herself in shorts, a midriff-baring yellow top, and high-heeled sandals, engaging in some classic belly-centered Britney moves. She looks joyful, healthy, and her age.
She also shared that she had started her own fitness program that fits her own needs and goals.
"I work out for 45 min, 3x a week … that's it !!! I hate working out for too long … I'm sharing this because I have worked hard to get in shape, yet I don't look like the pictures that the paps take," she explained. "God knows my body ain't perfect but I did want to share what my body looks like at the moment … I worked my ass off and for some people like that trainer who might see those nasty pap pics and secretly smile … Yup, y'all got it."
Spears noted that she had run into the paparazzi twice recently: once when her car broke down and once when she was out with a friend, and both times she felt embarrassed by how she looked in the pictures. Specifically, that she was caught off guard, in a tough situation, and not ready for public pictures.
"My car broke down the other day and I got out telling Hesam to come on my side and the paps were there and took pics," she shared. "I looked like an idiot !!! My facial expression, the way I was leaning over, the pooch in my stomach !!! It was horrible because they got a pic of me in a helpless situation, so of course I get protective of myself !!! I went out with a friend and same thing !!! It didn't look like my body."
Most every woman knows what it's like to feel outside pressure to get back to how we looked when we were in our teens and 20s. iI's hard to imagine how much more of that pressure Britney feels after being a international star and sex symbol since she was a teenager. It's amazing to see her shrugging it off and embracing who she is today, in this moment.