Their Honesty Is Everything
Brooke Shields & Drew Barrymore Discuss Being Sexualized As Child Stars — And It's Gut-Wrenching
"You victim-shame yourself," Shields shared with her longtime friend.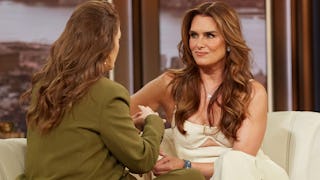 Paramount Plus
At just 12 years old, Brooke Shields was cast as a child prostitute in 1979's Pretty Baby. At 14 years old, she played a marooned teen in The Blue Lagoon, where she spent the film topless, with just her hair covering her chest. While they're the most high-profile examples, those instances wouldn't be the only times Shields would be sexualized as a child. Now, at 57, she's the center of the new two-part Hulu documentary Pretty Baby: Brooke Shields, which will look into her life, career, complicated relationship with her mom/manager, and the over-sexualization she faced growing up in the entertainment industry.
In a segment of The Drew Barrymore Show that aired on April 11, Shields sat down with fellow child star Barrymore for a raw, vulnerable, and heart-wrenching conversation about their shared experiences growing up in Hollywood under the male gaze and how they fit into the #MeToo movement.
The interview is being hailed as "healing" and "powerful."
"I didn't know where I fell on the spectrum of it," Shields answered when asked if she could speak to the #MeToo movement. "I don't know where to interpret my experience because I was made to feel culpable. ... And, you know, you victim-shame yourself."
Shields also pointed out that, as a child, hyper-sexualization was so commonplace that she didn't realize it wasn't normal until much later. "We were so young, and it was so 'appropriate.' I couldn't feel sorry. I didn't even know. ... So, when it was called out to me as such, I was like, 'No. Nuh-uh. Not going there. That did not happen,'" she revealed.
Shields and Barrymore discussed living in denial about everything they witnessed and were made to experience as children. They bonded over how that shared trauma became something they had to deal with as mothers.
"As a mother of daughters, I think that's what helps with the perspective of it," Shields said. "But the ownership of it or the ownership of the reality of it, that never was in my— I did not know how to handle any of that. So, I just pushed it under the rug."
Barrymore and Shields both experience awful and awkward things at the hands of men in the film industry, all while their mothers-turned-managers allowed it. And, while they're willing to joke about it now, they know those same mistakes can't be made again.
"What do we say to young girls who are out there on Instagram, on social media, doing the same things we did?" Barrymore asked, "So we're not judging it, I'm not judging it. I did it, too. I get it. But now, knowing what we know...."
"They're not gonna listen," chimed Shields, in all her motherly wisdom. "But, you know, they're gonna have to process it on their own. Because they think they're in control. ... So you're gonna have to try to balance it. But, you just keep talking. Keep talking to them. And our experience is completely unrelatable."
In the time that has passed since Shields' early years in the industry, the downright predatory way she was treated has been acknowledged often. Has anyone reached out to apologize, though? While many of the older men who led the production of Shields' films have long passed, Shields revealed that one person has reached out to her. "You know, the director of The Blue Lagoon is still alive," Barrymore shared, speaking about Randal Kleiser.
"I saw his name on my phone and I was like, 'Oh, oh, what do I do?'" Shields shared. "I let it go to voicemail because I was like, 'Oh, I wanna see what the tone is.' And he wants to chat. I don't know about what. I don't feel like bringing any of us back up again. And it's not about that. But it was about, you know, these males needing me to be in a certain category to serve their story. And it never was about me. It was never protective of me. It was fun and loving at times, but I was just there. I was a pawn."
Shields did point out that it wasn't all particularly awful. She recalled how Keith Carradine, who starred alongside a 12-year-old Shields in Pretty Baby, "took such good care" of her.
"He looked at me and he said, 'You know, this doesn't count as a first kiss.' That was gracious and protective and caring on a level that I don't even think I knew at the time," she shared. "I'd never kissed a boy before."
It's worth noting that Carradine was still almost 30 at the time the film was released and Shields was 12. At any time, he could have withdrawn from the film or raised flags. There's no record that he ever did that. Though, it seems he still tried to protect and care for Shields in at least a minimal way.
Pretty Baby: Brooke Shields is available to watch now on Hulu.