Carey Hart Nails His 40th Birthday Message To Pink
by Sarah Bregel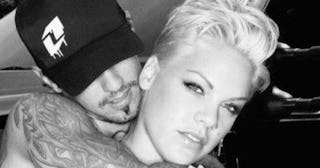 Instagram
The singer turned 40 on Sunday and her husband gave her a sweet shout-out for the occasion
Carey Hart loves to let the world know just how much he loves and admires his rock star wife, Pink, and he's at it again, sharing a super sweet message to the singer in honor of her 40th birthday which happened over the weekend.
We already know the couple cares for one another deeply given that they've always been pretty vocal (pun-intended) about their love, but this adorable message has us all kinds of weepy.
"Welcome to 40 baby," he wrote on Instagram on Sunday. "I've celebrated 18 birthdays with you, and I can say it's amazing growing up with you. The person you have grown into is inspiring."
Inspiring is right. Pink is truly her own person who always does everything, including raising her kids, her own way.
"You truly are like wine," the post went on. "You just keep getting better, and I'm so lucky to be along on this crazy ride with you," Hart gushed. "I love you baby. Looking forward many many more birthdays with you. I can't wait to see how nuts you and I are in our 80's."
Clearly, the two love to joke with one another. But one thing is for sure, Pink definitely keeps getting better and she doesn't seem to mind getting older either. The mom of two posted her own message, thanking others for their well wishes, and she's looking pretty amped about being 40.
Why shouldn't she be? Look. At. Her.
Pink and the motocross racer sure have had an epic romance over the years. There's been a few breaks and one proposal on the racetrack when Pink proposed to Hart back in 2005. They've also admitted openly to going to therapy for quite some time — pretty much their entire marriage.
Still, their love has always been obvious. The two are never shy about PDAs or speaking about their whirlwind romance. This is just one more example of the imperfectly beautiful love this couple shares. Congrats to Pink on entering her 40s in style and surrounded by love.
This article was originally published on