8 Holiday Novels To Buy This July — Because Christmas Can't Come Soon Enough
Christmas books in July? Groundbreaking.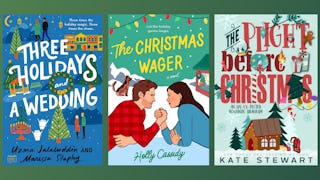 Amazon
We may receive a portion of sales if you purchase a product through a link in this article.
We're deep in the throes of a summer heatwave. While our stack of summer reads is keeping us company poolside, we're looking forward to chillier adventures on the horizon. That said, it does feel like just yesterday we were tangled in holiday lights and drowning in wrapping paper. But with Mother Nature's recent sticky and suffocating weather patterns, being stuck indoors with a piping mug of hot cocoa under a fuzzy blanket sounds a lot more inviting than sweating through our clothes.
That's why this year we're stepping up our Christmas in July programming. In addition to watching Hallmark's month-long Christmas movie marathon, we're reading holiday-themed books! From Christmas riddles to midnight murders to exes kissing under the mistletoe, this assortment of holiday reads is just what Santa ordered.
Keeping in the merriment of Christmas, you'll also find a few forthcoming holiday titles on this list (all of which publish on Sept. 26!). Whether you're looking to get a head start on Christmas shopping or treat yourself to a new book, these new arrivals are sure to be the talk of the North Pole come winter.
Christmas Books to Add to Your July TBR Pile
1. The Hunting Party by Lucy Foley
For the last decade, Mark and his college friends have gone away on holiday together for New Year's Eve, and this year is no different — until one of them is found murdered on the property minutes after the clock strikes midnight. Set at a luxurious lodge nestled in the Scottish Highlands, the gang learns that they are snowed in for the foreseeable future due to an impending blizzard threatening to wreak havoc on the small town. How will they get help? And more importantly, who is the killer?
2. Seven Days of Us by Francesca Hornak
For fans of The Family Stone comes a quirky holiday read filled with complex family dynamics, lies and secrets, and one unexpected guest. In Seven Days of Us, an estranged family is forced to brush elbows with one another when the eldest daughter returns from treating an epidemic in another country. Due to quarantine restrictions, the Birches will be *forcibly* spending Christmas together under one roof for the first time in nearly forever.
3. The Plight Before Christmas by Kate Stewart
A family Christmas party turns ugly when the ghost of Whitney's past shows up on her grandparents' stoop, ready to join in on the weeklong festivities. Between the hidden mistletoe and endless cups of spiked eggnog, Whitney and Eli may be making the jump to Santa's Naughty List faster than you can say ho, ho, ho.
4. The Christmas Murder Game by Alexandra Benedict
Calling all thriller and Agatha Christie fans! The Christmas Murder Game follows a family of cousins as they race against the clock to solve their aunt's annual Christmas riddle. Lily couldn't care less about winning the deeds to her family's grandiose estate. A coded letter from her aunt reveals that the puzzle's answer will get her one step closer to solving her mom's mysterious death.
5. The Santa Suit by Mary Kay Andrews
MKA is a highly acclaimed beach-read author, but what many bookworms may not know is that the novelist has a few Christmas-themed reads in her portfolio as well. When Ivy Perkins inherited a dusty old farmhouse, the last thing she imagined was uncovering a decades-old letter that would lead her on a quest around town — and possibly to a second chance at love.
Her other holiday novels include Blue Christmas, Christmas Bliss, Midnight Clear, and Bright Lights, Big Christmas.
Christmas Books to Look Out for (and Gift!) This Winter
6. The Christmas Wager by Holly Cassidy
A last-ditch effort to acquire a local Christmas shop lands big-city real estate mogul Bella Ross in the community's annual holiday games and against some stiff competition: the store owner's hot grandson. If she wins, Always Noelle is hers — but if Jesse wins, Bella will have to meet his demands, which include an enormous check.
7. The Christmas Orphans Club by Becca Freeman
Hannah and Finn have been inseparable since college, but the trajectory of their friend group (and love lives) is upended when Finn drops a major life update. With this Christmas quite possibly being their last, Hannah, Finn, Priya, and Theo grapple with growing up and the thought of possibly… growing apart.
8. Three Holidays and a Wedding by Uzma Jalaluddin and Marissa Stapley
An emergency plane landing leaves Anna and her seatmate (plus all of her sister's bridesmaids) stranded in a snow-capped village, albeit things could be worse. For starters, the small town has the charm of a Hallmark movie set. And secondly, one of their fellow passengers is a famous actor — and Anna's Hollywood crush. Maryam was excited about the wedding, but being trapped at an inn with the one who got away isn't a bad consolation prize.