Diane Keaton Says It's "Highly Unlikely" She'll Go On Any Future Dates, Ever
The actor says she's too weird to date and perfectly happy with her dog.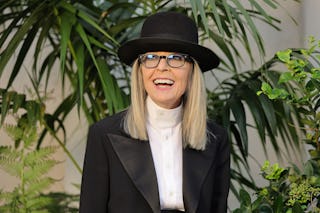 Amy Sussman/Getty Images Entertainment/Getty Images
Diane Keaton has stolen the hearts of millions of people during her 50-year Hollywood career — and also has the undisputed best hat, boot, and trouser wardrobe that has ever existed in the universe. She's also dated a laundry list of A-listers, from Woody Allen to Warren Beatty to Al Pacino. At the same time, though, she's chosen never to settle down with a partner or tie the knot.
And she is more than fine with that.
She recently opened up to AARP Magazine about how she's perfectly content being single — and, at 77, has zero plans of ever settling down or even meeting someone for coffee.
"I don't date," she told the magazine. "Highly unlikely. I don't remember anyone calling me, going, 'This is So-and-So. I'd like to take you out.' They don't happen. Of course not."
This isn't the first time that Keaton has been candid about her lack of interest in romance and marriage. In January, she told Extra that she hasn't been on a date in 15 years. Why? Well, she's kind of quirky, and also she doing fine just how things are.
"Let's say 15 years," she answered. "They probably just thought, 'Enough's enough… she's too weird.' I'm kind of odd, but I'm doing fine."
And in 2019, she told People that it was probably good for everyone that she never settled down.
"I don't think it would have been a good idea for me to have married, and I'm really glad I didn't, and I'm sure they're happy about it, too."
She gave the same reason that she gave Extra: "I'm an odd ball," she said.
She also, she continued, just never wanted to be a wife.
"I remember one day in high school, this guy came up to me and said, 'One day you're going to make a good wife.'" Keaton explains. "And I thought, 'I don't want to be a wife. No.'"
She also said that she used to date for the wrong reasons.
"When I was young, I was looking to be loved by these extraordinary people," Keaton told People. "I think I should not have been so seduced by talent. When you're both doing the same job, it's not so great. I should have found just a nice human being, kind of a family guy."
On Valentine's Day, though, she did give an amazing shout-out on Instagram to "all the men who were paid to kiss me."
Legend.
Even though she never felt a pull to be a wife, Keaton has two kids via adoption, her daughter Dexter, who's 27, and her son Duke, who's 22.
Duke recently moved out of the house, leaving her with an empty nest, though both of her kids are "doing great" she reported to AARP.
Now her life is ruled by a golden retriever named Reggie.
"A friend of mine gave her to me," says Keaton. "I didn't even ask for her. He came to me and said, 'I think you need this dog.' I was like, 'OK, I guess?' Of course, now I just love her. Dogs are irresistible. They're just idiots. Reggie is a big jerk, and she's a great jerk, and she's hilarious."
You can read the full AARP Magazine article here.