Diddy Trying To Stop His Daughter From Eating Food Off The Ground Is All Of Us
So gross, so relatable, so adorable.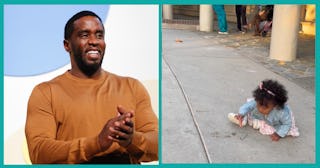 Jemal Countess / Stringer / Getty / Instagram
Twenty-five years ago, Sean Combs/Puff Daddy was making some of the world's best rap music. Life was good, the music was loud, our futures were bright, and anything could happen. And now, in 2023, here we are with kids and more than a lot has changed. And just like the rest of us, Combs, now Diddy, is just like the rest of us, just sitting around in a park, trying to stop his toddler from eating crap off the ground.
On Sunday, the 53-year-old rapper and entertainer posted a hilarious video to Instagram of his youngest child (and namesake) Love — a one-year-old whom he shares with 28-year-old model Dana Tran.
In the video, he's praising his kiddo for walking around (a new skill) while she eats what looks like a cookie.
"Hey, look at you walking! Look at you," Diddy says sweetly as he films. "You look like a little person. You a little person? Yes, Daddy, that's what you made me: a little person."
Then Love, who is dressed in the cutest dress and who has the cutest sprout of curls, falls down.
"That's right, get up, baby. Get up," he said, as the girl struggles to get up without losing her treat. "You can do it! You can do it!"
Then she tries to grab a fallen piece of her cookie from the ground.
"Oh. You going to eat — you still gonna eat that? Oh, you ain't trying to leave nothing," he said.
As he realizes that she's going to eat the Ground Cookie, he does what so many parents of the past have done: he drops the camera and moves from videographer to parent in 0.5 seconds flat.
"No, no, no, no," he says, running to her side, the phone forgotten. "Don't put that in your mouth. Spit it!"
But it's too late. The Ground Cookie is now part of her.
Diddy, understanding that you can only now accept reality, recovers admirably.
"Oh, shoot. You're a tough baby. Eat the dirty food. Daddy used to eat dirt. How do you like dirt?"
Love Sean Combs — who shares her dad's name, just with his middle name first — was born last December.
"I'm so blessed to welcome my baby girl Love Sean Combs to the world," he wrote on X. "Mama Combs, Quincy, Justin, Christian, Chance, D'Lila, Jessie and myself all love you so much! God is the Greatest!"
Diddy is currently dating model Yung Miami, but the two have an open relationship.
He is also the dad to six other kids: Quincy (32), Justin (29), Christian (25), Chance (17), and twins D'Lila and Jesse (16). Four of his kids were raised with his long-time, on-again, off-again partner Kimberly Porter, who passed away from pneumonia in 2018.
Here's to many more years of Diddy being a (relatable) dad to his kids.