Everyone's Falling In Love With This Real-Life Snoopy Lookalike On Instagram
Bayley is a sheepadoodle with an uncanny resemblance to the iconic pooch.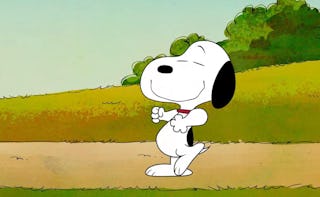 IMDB
Stop everything you're doing. There's a real-life dog that looks exactly like Snoopy, everyone's favorite 1960s cartoon pup from Peanuts. You might not think that's a totally huge deal, but that just means that you've haven't seen a picture yet.
Here's all of the information you need to know. The Snoopy doppelgänger is named Bayley, and she's a mini sheepadoodle (a mix between an old English sheepdog and a miniature poodle). She's a few weeks away from being two years old (birthday: May 4, 2021) and she already have almost 200,000 followers on Instagram.
Without further ado, here's a snapshot.
Let's break it down: She has the perfectly round and black nose as Snoopy, plus the black ears, protruding muzzle, and snow white fur. She also somehow has the eyebrows, mouth and smile of Snoopy!? Although that's harder to explain.
Photos of Bayley's full body reveal, however, that although she does have Snoopy's signature back spot, she does look pretty different from behind, as she sports a very fluffy black and white tail (Snoopy's tail is white and less fuzzy) and a few other black spots of fur. Snoopy, as a beagle, is also probably a little smaller than Bayley, whose breed stands about 18 inches high and weighs about 40 pounds.
Also, Bayley is a girl and Snoopy is a boy. And, yes, Bayley does have a stuffed Snoopy to play with.
Bayley's Instagram account has gone viral recently, as more and more people catch on to the cute twinning puppy (who would be plenty cute all on her own, too, and without the celebrity coincidence). You can watch her go on walks, wear adorable outfits, and, of course, just sit there looking a whole lot like Snoopy. The captions are all in first-person dog voice, too, for extra cuteness.
The comments, as you might guess, are filled with a lethal level of heart-eye emojis and people exclaiming, "Snoopy does exist!"
This all started when @doodledogsclub on Instagram shared a side-by-side picture of the pooches, and over a million people reacted with delight.
It's the little things in life. Specifically, the little Snoopy-related things.