The Trailer For DreamWorks' Dew Drop Diaries Is Here, & It's Magical In More Ways Than One
Fairies-in-training Phoebe, Athena, and Eden will be your kids' new summer BFFs.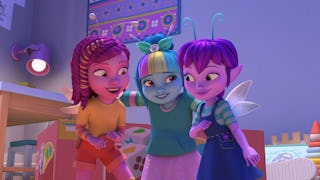 DreamWorks
With summer finally here, kids get to live their best lives: sleeping in a little later, having more playdates, going on vacay with the fam, and naturally, enjoying the occasional lazy days watching TV. Your little ones may have already burned through Season 1 of DreamWorks' colorful book-to-screen adaptation Not Quite Narwhal, but don't worry. There's another DreamWorks show on the way you can feel good about letting your kiddos binge-watch: Dew Drop Diaries. Bonus? Scary Mommy has the exclusive trailer debut.
Arriving on Netflix July 24, the adorable series follows a trio of three-inch-tall fairies-in-training (aka Dew Drops) who live inside teensy-tiny houses on brownstone balcony gardens in "The Big City." They've been tasked with secretly helping human families by tending to the stuff that falls through the cracks, like tracking down a missing cleat on game day.
Each Dew Drop shines with their own unique personality — and a magical ability or two. The oh-so-optimistic Eden loves to bake, can talk to animals, and occasionally leaps before she looks. Super-strong Athena can lift over 100 times her weight, knows her way around a jump rope, and sometimes dances out of sight. Phoebe can change your mood with her magical melodies, is a DIY extraordinaire, and is the most grounded of the bunch. They all also keep gratitude journals to pen their feelings about their adventures.
Your curiosity's already piqued, right? Meet the Dew Drops in the exclusive trailer debut for Dew Drop Diaries:
With their "attitude of gratitude" and "can-do" mentality, you can count on the Dew Drops to put a smile on your kid's face... and remind them that they can do big things, no matter their size!
To get some behind-the-scenes insight, Scary Mommy enjoyed a quick Q&A with series creator and executive producer Rick Suvalle (Thomas & Friends: All Engines Go) and executive producer Aliki Theofilopoulos (Descendants Wicked World; Phineas and Ferb).
Scary Mommy: Why do you feel now is a great time to reinforce the "attitude of gratitude" message with young viewers?
Rick Suvalle: It feels like kids today are filled with more stress and anxiety than ever, and being able to find things to be grateful for is a powerful way to combat that anxiety. It's about celebrating the little victories in your day.
Aliki Theofilopoulos: Rick and I are both parents. So we really love the idea of helping children to focus on the positive, plus experience the good feelings and self-esteem that come with practicing gratitude (for the big or seemingly small things in life). We know how important it is to acknowledge feelings of disappointment when things don't go the way our kids might have expected. But usually, if we take a moment and look, there is a silver lining too!
SM: It's so special that the fairies share racial characteristics with the humans they look after, so every kid gets to feel like there could be a fairy who looks or talks like them. In what other ways did you create this series to be inclusive?
AT: Our goal was to be inclusive both on and off-screen. We wanted to make sure that audiences would see diversity on screen in the way our characters were designed and sometimes even the way a room was decorated. But also behind the scenes, it was important for us to represent people with many diverse backgrounds and voices to help shape our world too.
RS: Beyond the fairies sharing racial characteristics with the children they secretly look after, we made sure our human characters come from a wide variety of races, including making one of our core families a mixed family. But we also feature single parents and celebrate different body types. And this diversity extends behind the scenes as well, where our writers and production team are filled with diverse voices.
SM: What adventures can kids (and their parents) expect the Dew Drops to get into?
AT: Our fairies are tiny but mighty — and so are their adventures! One day they might soar across the city on the back of a bird to retrieve their child's favorite toy left behind at the park, and another, they might traverse the big city to get their child's good luck charm to them before their special performance. No task is too big or small for our fairies when it comes to helping their humans.
RS: Having been forced to watch a lot of preschool television when my daughters were younger, I wanted to create a show I'd enjoy watching with my girls. So, every episode opens with a teaser that's an homage to a classic action-adventure film. As for the adventures themselves, when you're three inches tall, even the smallest human task can be an epic adventure for the Dew Drops, whether it's finding a missing toy in a messy bedroom or getting a dropped summer camp application in the mailbox down the street. But the fun is really in the "how" of the adventures, as the Dew Drops can be found flying across the park on a balloon string or hitching a ride underneath a baby stroller. They can even be found turning a sneaker into a boat when a burst fire hydrant blocks their path!
Conversation has been edited and condensed for clarity.
You can watch DreamWorks' Dew Drop Diaries on Netflix starting July 24, 2023.