Emily Ratajkowski Is All For Divorce, But She's Still Got Her Wedding Ring
The model opened up about how she's keeping her ring and how she doesn't consider divorce to be "a sad thing."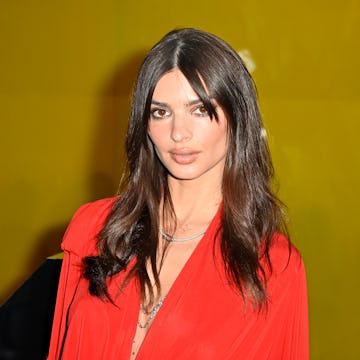 Kristy Sparow/Getty Images Entertainment/Getty Images
Emily Ratajkowski very publicly split from ex-husband Sebastian Bear-McClard at the end of 2022, but she hasn't tossed every momento from the relationship as swiftly as she did her ex. The model opened up on her podcast High Low with EmRata about how she "still" has her wedding ring and how divorce doesn't necessarily have to be "a sad thing."
"I love a divorce story," she said to guest Tommy Dorfman, who talked about her own divorce on the show. "I don't think divorce is a sad thing."
When Dorfman asked what Ratajkowski ended up doing up with her ring following the divorce, she said, "I still have it," adding, "Every time I hear a divorce story or when I see the news, I have to remind myself, 'Oh that's sad.' I literally say to people, 'Good for you.'"
Dorfman went on to call divorce a "brave" act, with which Ratajkowski enthusiastically agreed. After all, just because someone is married doesn't automatically mean they are necessarily happy or in love.
"I know a lot of people are unhappily married for a long time because they're so afraid of divorce," the actress continued. "I don't think that's a good way to live."
"Well cheers to divorce," Ratajkowski closed before thanking Dorfman for being on the podcast.
Ratajkowski, who shares 23-month-old Sylvester "Sly" Apollo Bear with her ex-husband, filed for divorce in October 2022 following reports of Bear-McClard's alleged infidelity over the summer.
"I feel all the emotions," the model, 31, told Harper's BAZAAR in the immediate aftermath of the separation. "I feel anger, sadness. I feel excitement. I feel joy. I feel levity. Every day is different," she continued.
"The only good thing I know is that I'm feeling all those things, which is nice because it makes me believe that I'll be OK."
At the end of the day, Ratajkowski is prioritizing being a mother to Sly over everything else. "I've never had such clear priorities before in my life," she said. "Number one is Sly, and that's that. It's made me re-evaluate what's important to me, like, 'What do I want to teach my son?'"
If Ratajkowski is able to make tough decisions like going through a divorce in order to have a fulfilling life, it seems like she is already modeling (and ultimately teaching) some important behavior to her son.