Hilary Swank May Be Pregnant With Twins, But She's Not Skipping Gym Day
The actor shared a video of her working out "with da babes."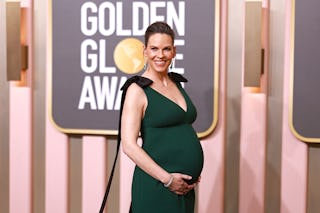 Matt Winkelmeyer/FilmMagic/Getty Images
Would Hilary Swank, a woman who has toned arms good enough to compete with Michelle Obama, slack on working out? The answer is no, not even when pregnant with twins. The Alaska Daily star shared a video on Instagram of her working out at the gym, growing belly and all.
"Me and Da Babes workin' out," she began the post. "Been a lonnnnnnng time since #FitnessFriday."
She laughed lightheartedly as she took position at an arm machine and began doing sets, while wearing black leggings and a long sleeve grey stop with sneakers. Her hair was pulled back in a bun and was glowing with a natural face.
"Wow … It's like you have the strength of 3 people?" one follower joked. "I love you! Thank you for showing women like me that everything is possible," another shared.
Others shared their theory that she's training for the next season of Cobra Kai, which just announced that season six will be their final.
The actress recently attended the Golden Globes with her husband, Philip Schneider, draped in a custom goddess-like maternity gown by Prada.
"When I spoke with Hilary about her vision for this look, she wanted to celebrate her baby bump and have the dress feel elegant and classic," stylist Thomas Carter Phillips told Vogue. "When Prada sent us a group of sketches to consider, I was immediately drawn to this look with the bow detail at the shoulder. We landed on this stunning cady emerald, green fabric that perfectly highlights her growing bump, while not being constrictive."
Swanks recently shared she' surpassed 27 weeks, sharing in an interview with The Late Late Show with James Corden, "What our bodies do? I have such, like, a whole newfound respect. I mean, I love women, I've always loved women, but now, I'm like, 'Wow, we can do this!'"