Jenna Bush Hager Opened Up About How Grandmother Barbara Bush Body Shamed Her As Teen
She was called "chubby" by the former First Lady while wearing a yellow bikini.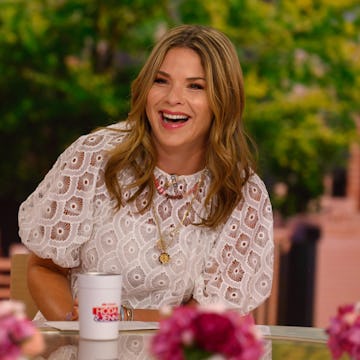 NBC/NBCUniversal/Getty Images
Jenna Bush Hager might have grown up in and around the White House, but that doesn't mean every part of her life was completely charmed. The journalist and TV personality opened up about how she was body-shamed as a teenager by one of her own family members: her grandmother, former First Lady Barbara Bush.
"I remember being a teenager. I remember the bikini color I was wearing, a yellow bikini color," the co-host of Today with Hoda & Jenna explained. "I was laying next to my sister, and my grandmother, who I adored," she said before explaining that her grandma had a "kind of a biting personality," and said to her, "Oh Jenna, looking chubby!"
The moment, one that might have seemed innocuous to her grandmother at the time, left a lasting impact on Hager. "I remember feeling like I wanted to hide in it," Hager explained, pantomiming covering herself up as she shrunk her shoulders down.
Hager later learned that her grandmother's own mother talked to her in a similarly harmful fashion, but that didn't make the "chubby" comment any less hurtful.
"She later told me that her mother said those types of things to her. Her mother always thought of her sister as the really beautiful one and would say it: 'Martha's the pretty one. You're the funny one. You're the smart one.'"
Hager went on to describe how her grandmother's tune changed once she got older. "Later in life, she said, 'you know, when I said those things to you, I was talking to myself.'"
Breaking the cycle of generational body-shaming can be an arduous task — but talking about toxic behaviors and attitudes is a great starting point. The clip resonated with fans who have also experienced some form of shaming and are trying to prevent themselves from inflicting any mental harm onto their children and their body confidence.
"This conversation is so important. The ripple effect of generations of diet culture is profound," wrote one. "My 16 year old and I were just having this conversation last night. They listen to more than we think. Words do matter, and they affect our children more than we could ever imagine! And they remember it like it was yesterday!" added another.
Watch Hager and Hoda Kotb's entire discussion about body-shaming below: