Jenna Bush Hagar Admits Her Four-Year-Old Son Still Sleeps In A Crib
"Anyway, to each their own!"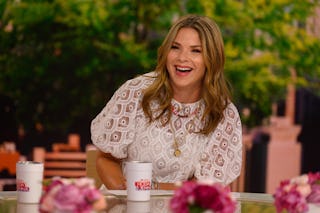 NBC/NBCUniversal/Getty Images
When my husband and I switched our toddler into a "big kid bed," we had no idea how much our world would change, and by "change," I mean totally suck.
Once those crib bars were off, she was out of her bed approximately 700 times a night, asking for water, snacks, a second tuck-in, etc. We were sleep deprived newborn parents all over again.
That's why Today host Jenna Bush Hagar might actually have the right idea when it comes to her kid's sleeping arrangements.
Her four-year-old son is still contently sleeping in his crib with zero complaint.
"Hal is still in his crib," Bush Hagar admitted of her 4-year-old son, Hal. "At some point do I need to move him out?"
Nodding her head, she asks, "It's normal, right?"
"No!" choruses everyone on the Hoda & Jenna set.
Bush Hagar then gestured to the viewing audience and joked, "I wasn't asking you. I was asking them!"
She again attempts to ask, "It's normal to have a 4-year-old, your last child, nicely in his crib where he feels safe, right?"
According to Sleep Foundation, a four-year-old still being in a crib is technically not "normal."
In fact, approximately one-third of toddlers transition to a bed between the ages of 18 months and 2 years old, and another third transition between ages 2 and 2.5.
In general, most toddlers make the move from a crib to a bed between the age of 18 months and 3 years old.
As the conversation continues on set, Bush Hagar's co-host, Hoda Kotb, asks what happens when Hal needs to go to the bathroom in the middle of the night, she responds, "He didn't need to. But if he ever had an accident, then it happens in his crib."
Bush Hagar claims she's ready to move her preschooler to a bed but that he doesn't want to.
When the mom of three asked Hal if he wanted to start thinking about moving to a bed, he had the sweetest response: "Not this Christmas, but next Christmas."
"He wants to be like a kindergartener in his crib," Jenna says. "Anyway, to each their own!"
Kotb had the opposite issue with one of her kids in 2018. Her daughter, Haley Joy, lifted her little leg over the side of the crib, attempting to make her escape. Kotb watched from the baby monitor in awe of her daredevil child.
"She is scaling the crib!" Kotb exclaimed.
If your kid is trying to climb out of their crib or does so successfully, then it's imperative to bite the bullet and switch to a toddler bed.
I'm on Bush Hager's side here. If it ain't broke, don't fix it! Speaking from personal experience with a kid who uses her big girl bed as an excuse to freely roam the house way past her bedtime, keep them in captivity for as long as you can.