Julianne Moore 'Destroyed' Her Eyebrows As A Teen
Who else is part of the overplucked brow club?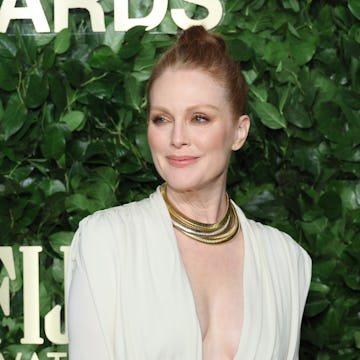 Dia Dipasupil/WireImage/Getty Images
Even though a strong brow has reigned as the eyebrow beauty standard for nearly a decade, there was a time when pencil-thin eyebrows were all the rage — which Julianne Moore can recall all too well.
The 62-year-old Oscar-winning actor shared her daily beauty routine with fans on Vogue's "Beauty Secrets," and talked about some of her beauty missteps of her youth. After walking viewers through her skincare routine, she applied her makeup and talked about what a "feat' it is to draw on her eyebrows every morning.
"I pretty much destroyed my eyebrows when I was a teenager," she explained after applying some powder. "And then I let them grow in, and then I destroyed them again and now they won't grow back." Ah, a cycle familiar to anyone who grow up in the late '90s and early aughts and aspired towards Kate Moss eyebrows.
"Drawing in my eyebrows is a major, major feat for me," Moore joked before showing off her brow pencil of choice from Anastasia Beverly Hills.
Moore also took the time to point out a little beauty hack for fellow redheads: use a blonde brow pen to fill in patchier areas. "A lot of people think that red heads have red eyebrows, but they very rarely do," she noted as she filled in her brows. "It takes forever," she said of the process.
"So there we go. Now I have eyebrows," she said, showing off the natural-looking, finished look.
This isn't the first time Moore has shared some of her thoughts on beauty trends, especially in conjunction with aging.
"People have talked to me about aging for as long as I've been in the business," Moore told Wall Street Journal in July 2022. "But this idea that it's something we have control over, or that there's a good or bad way to do it, is simply not true. I actually think that when we really do feel aging is when we see it in relation to how much life we've lived."
The mother of two also talked about how she and her 20-year-old daughter Liv Freundlich, whom she shares with her husband, director Bart Freundlich, swap beauty products all the time.
"It really is funny having a daughter who's like, 'Mom, do you have any makeup remover? Mom, where's your mascara? Mom, where's your face wash?'" she joked to Wall Street Journal. "I've noticed all this stuff that's migrated to her bathroom."
Watch Moore's entire beauty routine below.