Julie Bowen Says She Had Plastic Surgery After Her Twins 'Ripped' Her Open
The "Modern Family" star said she waited 11 years to have the procedure.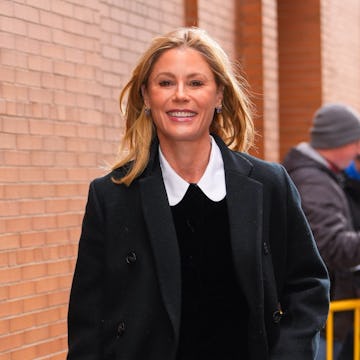 Gotham/GC Images/Getty Images
Julie Bowen was inspired to share a personal anecdote about her post-twins body after The View co-host and fellow mom Sunny Hostin opened up about her own decision to have plastic surgery.
During an appearance on the ABC talk show this week, Bowen, 52, admitted that she "finally got my stomach fixed" after giving birth to her twin boys, Gus and John, in 2009. Hostin first confessed that she recently had a breast reduction and lift, allowing Bowen to build up the courage to share her experience with plastic surgery.
"You talked about it? Just like that? Oh, God, I love you. I love that," Bowen said before launching into her own story.
"I finally got the stomach fixed," the actor explained, clutching her belly. "Finally, after all these years. Because they ripped it open — the twins just ripped it. And I said, 'As soon as Modern Family is done … I'll get it fixed.' But it was 11 years! So 11 years later, we wrapped on Friday and Monday they went in and they do you like a sneaker."
"They sew you up," co-host Sara Haines chimed in.
Bowen added some comedic sound effects to mimic a "cinching" noise before the ladies at The View table praised her.
"You look snatched. You look good," Hostin said.
"Thank you, I think?" Bowen replied, laughing.
A tummy tuck, or abdominoplasty, is a popular procedure among women — with some mothers deciding to have the cosmetic surgery after pregnancy. The American Society of Plastic Surgeons reports the surgery is very commonly paired with other procedures, such as breast augmentation or liposuction, in what is called a "mommy makeover." (According to Summit Health, nearly 140,000 tummy tucks are performed each year in the U.S.)
For many women, excess skin, torn abdominal muscles, and pain affect their daily lives post-baby, and diet and exercise are simply not enough to deal with the issues.
Although cosmetic procedures can be expensive, and there's a risk to every surgery, to each their own. It's a personal (and empowering) choice.
Bowen explained to The View co-hosts that she was pregnant during the pilot of Modern Family, and that the jolt of fame following the Emmy-winning comedy's debut was minimized by the pressures of motherhood.
"All I cared about was these little kids, I didn't even notice anything else that was going on," Bowen, who also has a 15-year-old son, Oliver, with her husband Scott Phillips, said. "I had a life and boobs I could tuck into my shoes. I was nursing!"
Modern Family wrapped in 2020, and Bowen has since been seen in movies like The Fallout and Mixtape. She currently hosts the podcast Quitters with Chad Sanders.