Kristen Bell Further Explained Why She's "At Peace" Letting Her Kids Drink Non-Alcoholic Beer
"I thought that was kind of a cute story but again, it turned into, 'I let my kids drink.'"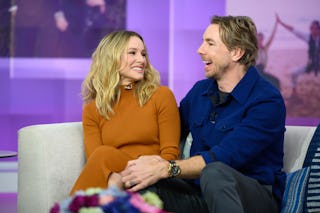 NBC/NBCUniversal/Getty Images
Kristen Bell is so, so far away from caring what people think about how she parents her kids — and we could all use a lesson from her in ignoring the noise.
In an interview on the The Kelly Clarkson Show a few weeks ago, Kristen Bell admitted that her kids sometimes drink non-alcoholic beer — and she also doesn't care at all what you might think about it. And now, this week, she and husband Dax Shepard appeared on Dax's podcast Armchair Expert and discussed the matter (and the public response) in more depth — and they both doubled-down on their parenting choice.
The 43-year-old actor and 48-year-old Shepard share two kiddos, Lincoln, 10, and Delta, 8, and the two children seem to have sophisticated palates for elementary-aged kids.
But as Kristen explained on The Kelly Clarkson Show, their penchant for non-alcoholic brews makes sense if you know the backstory.
"My kids have ordered non-alcoholic beers at restaurants before, which sounds insane if you don't know," she began, while telling Clarkson about the family's recent trip to Disneyland, where the Frozen actress was named a Disney Legend.
Bell explained that her kids' taste for non-alcoholic suds came from Shepard, who is a recovering addict who drinks alcohol-free beverages from time to time.
"He's a recovering addict, but he likes non-alcoholic beer, so he'd pop one open, he'd have [our oldest daughter] on his chest, and we'd walk and look at the sunset," she recalled. "As a baby she was pawing at it, and sometimes she'd suck on the rim of it. So I think it feels to her like something special, something daddy, something family."
"We've been at restaurants where she's said, 'Do you have any non-alcoholic beer?' and I'm like ... maybe we just keep that for home time," Bell said, laughing. "But then I'm also sort of like, you can judge me if you want, I'm not doing anything wrong. Like that's your problem."
On Armchair Expert, Bell explained further and shared her reaction to the world's reaction.
"People are very upset about that," Bell said about the interview. "They're allowed to be upset about that because they're not their kids. It's not your kid, you can think whatever you want."
Shepard weighed in, for the first time. And he was slightly more worked up.
"This is where we're different and you're at peace and I'm not," he said. "Orange juice has a .5% ABV alcohol by volume. Heineken has a 0.0. If you're serving your kids orange juice, you're serving them way more alcohol. ...If anyone has a problem that I let my kids drink NA beer sometimes, that's fine with me. I'm not going to change based on what anybody else says because this is our family and not your business."
"What's so cute about you to me is that you are so logical and fact-driven and evidence-based, but if people want to be angry about something, they're going to be angry about it," Bell responded. "When they have tried to order NAs at a restaurant or something, it's because of a very specific connection to you. Because first of all, they're educated on addiction and what substances are and how they affect your body and how scary they are and what they can do to you."
The bottom line?
"I thought that was kind of a cute story but again, it turned into, 'I let my kids drink,'" Bell concluded.
Bell has a history of being super honest with her kids about her husband's history with substance abuse, and lots of other topics that make parents cringe.
"I hate the word 'taboo', I think it should be stricken from the dictionary," she told Real Simple earlier this year. "There should be no topic that's off the table for people to talk about. And I know it's shocking, but I talk to my kids about drugs and the fact that their daddy is an addict and he's in recovery, and we talk about sex. There's all these 'hard topics'— don't have to be, if you give the person on the other end your vulnerability and a little bit of credit."
Bell's parenting style is refreshing — whether or not you agree with giving your kid a taste for non-alcoholic beers — and anyone who wants to judge that shouldn't expect a response anytime soon.
This article was originally published on