Melissa McCarthy's Teen Girls Coined A Priceless Term For Her Good Moods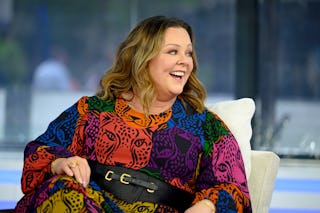 NBC/NBCUniversal/Getty Images
Melissa McCarthy has a lot to say about being a mom to two teenaged girls — Vivian, 15, and Georgette, 13 — and she opened up about all of it in her cover interview for People's Beauty issue on Tuesday.
The best part of the interview without a doubt occurs when the actor and comedian explained that her two teens have coined a name for when she's being fun and nice.
"There's a version of myself that we call 'Midway Mom,'" the actor told People. "We were coming back from visiting my parents and we went through the Midway airport in Chicago. And for some reason everything they asked for, I was like, 'Sure, get it. Two of them. You want a Coke?' And they were just like, 'What's going on?' 'Can we have Doritos?' 'Yep.' Anything they said. 'Can we get sweatshirts?' 'You sure can.' Like everything. I was like, 'You want a beer cozy?' And they were like, 'Midway Mom's awesome.'"
Now, whenever McCarthy is feeling permissive or laid back, Midway Mom appears and makes everyone's day.
"For no reason, I lost my mind this week and met someone's dog who's like a little wiener dog. We have two dogs and they all want a third one," she went on. "And I said, 'Absolutely not. We're not doing this. This is crazy. We already have two dogs.' And suddenly I called the girls and I was like, 'Guess who's getting a wiener dog?' And they're like, 'Midway Mom!'"
McCarthy parents her two daughters with husband Ben Falcone, a fellow comedic actor who is a member of notable comedy troupe The Groundlings. The funny pair have been married since 2004 and are taking teen parenting in stride, though McCarthy admits that she's the not usually in Midway Mom mode.
"I'm really like, 'What are you doing? Do you want to go over your homework?' Ben is much more, 'Let them figure it out,'" she explained. "I'm like, 'Or I could empty their schoolbag and line up all their pencils.' I call it helping. Other people would probably say, 'You're meddling.' They're not babies anymore, so if I could put them in a BabyBjörn and still carry my teenagers around, I would."
One of the issues that has McCarthy acting especially strict? Social media.
"We keep track of it. I think it is still something to be really, really watched," she said in the interview. "I'm sure I don't do half as good a job as I should because I'm so bad with it. ...we're always kind of reminding them, 'Keep this in perspective. This is not real.' I keep saying this is smoke and mirrors and entertainment, which is fine. I've said, 'It's as if somebody takes a character I've played and assumes that's the real me.' But that's an ongoing fistfight that concerns me all the time."
McCarthy doesn't share many pictures of her girls — and as we know, teens are historically hard to photograph and post about without permission — but the oldest, Vivian, has twice portrayed her mom on screen, once for The Boss in 2016 and once for Thunder Force in 2021. In both projects, she played a younger version of her mom during flashbacks.
From the clips, it seems like she might be as funny and talented as her parents.
McCarthy, 52, shared that she's hopeful for the younger generation — and that she was communicating to her younger self for People's beauty issue.
"I thought the younger version of myself or everybody out there who isn't the youngest or whatever... I felt like it was saying something really lovely to my younger self, to my 20-year-old self," she told People. "And maybe to other people, too."
And while she wants to share that sentiment with her girls, she said that's not for now.
"I think this might mean more to [them] as they get older," she said.