Michelle Pfeiffer "Underestimated" The Struggle Of Balancing A Career And Family
The mom of two explained how she came to the decision to put her career on the back burner for her family.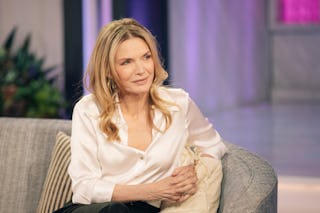 NBC/NBCUniversal/Getty Images
There's no question that the balancing act of motherhood and work is not easy or even possible. It seems that no matter how hard parents try, managing work and kids is just a never ending journey of one piece of life getting the short end of the stick. Because of this, many moms let their career take a back seat as they raise their kids.
Actor Michelle Pfeiffer knows this all too well. Speaking on DearMedia's The Skinny Confidential Him & Her Podcast, the Dangerous Minds actress, 64, opened up about taking off five years from work for the betterment of her family.
Being an actor requires travel, strange schedules, and not always a guarantee of steady income. Pfeiffer knew this all too well, and when her work life started to create stress and conflict with her family life, she knew she needed to take a step back. She also revealed that she was at an age in her career where she wasn't exactly taking "grandma" roles but was no longer a new starlet.
"I was also sort of in this in-between place. I sort of didn't feel like I was really a leading lady. I wasn't a grandma yet, but I wasn't also like an ingenue," the Batman Returns actor recalled. "I was having babies and relocating the family was — I really underestimated what that meant."
Pfeiffer spoke about the stressors about moving her family — which includes TV writer and producer husband David E. Kelley, son John Henry, 27, and daughter Claudia, 29 — to Northern California for work and trying to learn to balance it all.
All of her nonnegotiables for jobs (usually pertaining her to mom life) became complicated, she explained, and because of that, she didn't get a lot of jobs. However, Pfeiffer was just fine with that.
"It's challenging no matter where you raise kids. I didn't set out to stop working or it wasn't my plan, but I became so difficult in terms of my prerequisites, in terms of, 'Well, where does it shoot? How long does it shoot? What time of year does it shoot? Can I bring the kids? Is it during the school year?' And then it was just too difficult to hire me, honestly. And I was okay with that."
Though she was focused on being a mom, the Grease 2 star told the podcasters that she didn't completely cut off the idea of taking an acting job, it's just that nothing really caught her eye enough to justify leaving her family for an extended period of time.
"Honestly, I didn't even realize how much time had gone by, and I was kind of reading things on the way, and there was just nothing that really I liked enough that prompted me to wanna leave home, leave the kids," she noted.
"Because when they were little, when they were really small, you can just take 'em with you. I literally would take Claudia to restaurants with me and put her car seat on the table. I mean, I just took her everywhere. And then once they're in school, I just didn't want to disrupt their life and the routines that they were establishing and the friends they were making."
"And then for a while, I would just do things if they were longer shoots in the summer, and then it just became so complicated."
She joked that her kids were actually the ones who encouraged her to go back to work. "So I remember actually it was my kids. They said, 'Mom, are you ever gonna go back to work?' I said, 'What do you mean? Isn't it great that I'm home?'"