Michelle Yeoh Tells Women They Are Never "Past Their Prime" In Historic Oscar Win
Yeoh, who starred in 'Everything Everywhere All At Once' is the first Asian American to win a Best Actress award.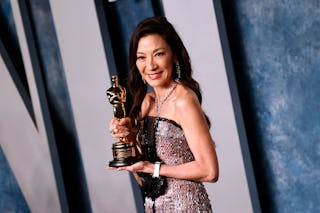 MICHAEL TRAN/AFP/Getty Images
The fun, creative fever dream of a film that is Everything Everywhere All At Once had a stellar night at the Academy Awards last night, winning Best Movie, Best Director, and Best Screenplay Oscars as well as securing wins for Best Supporting Actor and Best Supporting Actress. But one of the stand-out moments of the entire evening was watching the star of the film, Michelle Yeoh, become the first Asian-American woman in history to win Best Actress for her amazing role in the film as struggling laundry owner Evelyn Quan Wang.
Yeoh, who is 60, is a Malaysian actor who began her career as a ballerina. She rose to acting fame in Hong Kong in the 1990s and then broke out in Hollywood in 1997's Tomorrow Never Dies and 2000's Crouching Tiger, Hidden Dragon.
Her message to the audience — and more specifically, to women and People of Color? Hug your mom and never give up.
"For all the little boys and girls who look like me watching tonight, this is a beacon of hope and possibilities," she began. "This is proof that ... dream big, and dreams do come true."
"And ladies, don't let anybody tell you you are ever past your prime," she stressed. "Never give up."
She then went on to thank the movie's team, from cast to crew.
"I wouldn't be standing here tonight without the Daniels, without A24, without my amazing cast and crew. Without everyone who was involved with Everything Everywhere All at Once."
And then she got emotional, saying that her Oscar was dedicated to all the moms in the world.
"I have to dedicate this to my mom, all the moms in the world, because they are really the superheroes and without them, none of us would be here tonight. She's 84 and I'm taking this home to her. She's watching right now in Malaysia, KL, with my family and friends. I love you guys, I'm bringing this home to you."
Before she wrapped up, she also spent a moment thanking the rest of her family.
"And also to my extended family in Hong Kong, where I started my career. Thank you for letting me stand on your shoulders, giving me a leg up so that I can be here today. And to my godchildren, to my sisters, all of them. To my brothers, oh God, to my family. Thank you, thank you!
"Thank you to the Academy. This is history in the making. Thank you!"
In Malaysia, Yeoh's mother Janet cried tears of joy for her "little princess."
"I so love my daughter and she has made Malaysia proud," Janet told a news conference after the viewing at a cinema in Kuala Lumpur as reported by the Associated Press.
The last Asian American to even be nominated in that category was in 1936, when Merle Oberon was nominated for her performance in The Dark Angel — and Oberon didn't even talk openly about her race. And the last non-white woman to win Best Actress was Halle Berry's win for Monster's Ball in 2002.
A Malaysian actor has never before won an an Academy Award.