Read The Book Before It's A Show In New Netflix Book Club
by Madison Vanderberg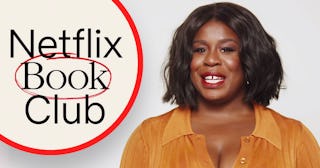 Scary Mommy and Netflix/Youtube
Uzo Aduba to host a global book club for Netflix
If you haven't watched a movie based on a book and uttered the phrase, "Yeah, but the book was better," then you aren't human. With more books being adapted into films and TV series these days, readers all over are contending with the tension, surprise, and — hopefully — joy that is watching new content inspired by their favorite literature, and Netflix Book Club wants in on the action. Hosted by avid reader and Orange Is The New Black star Uzo Aduba, Netflix Book Club begins next month.
Netflix has just launched a global book club where fans can read the books that inspired their favorite movies and TV shows (think Queen's Gambit) and check out books that are soon to become content on Netflix.
"I'm so excited to bring you an ever-evolving, curated collection of newly adapted books that you will then get to watch on Netflix soon after," Aduba said in a statement. "You'll also be able to explore the literature behind films and shows you've already watched and maybe didn't even know started as words on a page. Orange is the New Black, we're looking at you."
"Join us as we dive deep into the trenches of the stories that we can't stop thinking about! Will the new adaptation stick to the ending? Who would be a good fit to play the protagonists? Will new characters be added, and will they work with the storyline? Let's talk about it," Aduba also shared.
Also, unlike that other book club that you were unceremoniously kicked out of for not reading Chapter 5 by Thursday, Netflix promises that its book club isn't like the other book clubs. It's a cool book club.
"No homework, no obligations, and definitely no have-tos," the company stated. "Whether you've already finished the book or are waiting to read it once you've watched it first, that's up to you! We repeat: There is no wrong answer. We're here for your entertainment, no matter what shape that takes."
Aduba will then host conversations with the creators, cast, and book authors in a series called "But Have You Read the Book?"
The first book featured in the November spotlight is Passing, which will land on Netflix as a film on November 10, 2021. "Based on the novel by Nella Larsen, Passing follows two black women (Tessa Thompson, Ruth Negga) who are white-passing. However, in spite of their shared foundation, each woman chooses to live on the opposite side of the color line in 1929 New York," the statement reads.
The club starts on November 16 and which you can interact with on the Netflix US Facebook page and the streamer's Still Watching Netflix YouTube channel.
To make sure you're up to date and ready to read when the book club launches, sign up for the mailing list at Netflix Book Club online.