Kim Kardashian Says That Daughter North Thinks Kanye West Is 'The Best' Parent
The 11-year-old cited Ye's lack of domestic help, including not having a nanny, cook, or security.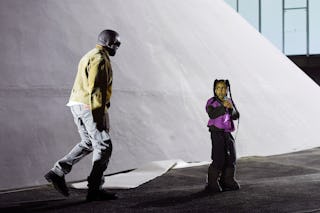 WWD/Penske Media/Getty Images
One of the hardest aspects of getting a divorce is that instead of parenting as a unit, you co-parent. And when you co-parent, it means that kids have an opportunity to decide — and tell you — who is doing a better job. This can lead to a lot of big feelings for everyone, especially if you feel like your kids aren't really getting the full picture of what's going on.
This looks to be the case with Kim Kardashian and Kanye West. The power couple split almost four years ago, but, like many divorced couples, the whole family is still getting used to the new normal. And the kids are starting to voice their opinions about what they like and don't like about their parents' homes and lifestyles.
This week on The Kardashians, Kim shared with sister Kourtney that her oldest daughter, North, told her that she'd rather spend time at her dad's house.
"She'll go to her dad's. She'll be like, 'Dad's the best! He has it all figured out. He doesn't have a nanny. He doesn't have a chef. He doesn't have security. He lives in an apartment.'"
It seems like North actually doesn't like a lot of finer things in life that her mom is giving her.
"And she'll start crying," Kim continued. "'Why don't you have an apartment? I can't believe you don't have an apartment.'"
Kim and Kanye share four children: North, Saint, 7, Chicago, 5, and Psalm, 4. When they divorced, West and Kardashian agreed on joint legal custody, in which both parents have equal access to the kids. But back in September 2022, West shared that Kardashian had the kids about 80% of the time. So, preferring dad's place might be part novelty.
After Kim opened up to Kourtney, her sister gave her some advice on how to approach the situation, since she also co-parents her children, Mason, 13, Penelope, 11, and Reign, 8. She explained that her kids feel the same way when they visit their dad, Scott Disick, who split from Kourtney for good eight years ago.
"They do that at Scott's too," she said. "Like, 'Dad has the best house, your house sucks. He has the best house, it's not super big, the vibe's better.' I feel like everything falls on the parent who is more involved."
The conversation moved to food preparation. Kim's kids love that Kanye cooks for them, but Kim knows that while her chef is making them full nutritious meals, Kanye likely isn't.
"That's amazing. You make ramen, you know?" she says to Kourtney.
Kourtney suggested some very simple fixes: more time present with her kids and maybe a little time in the kitchen with them, too. Specifically, she told Kim that she makes pancakes with her kids in the morning and takes walks with them before dinner.
Kim was just recently in the news talking about how single motherhood is hard even when you have lots of money and help.
"The struggles that my kids go through really have nothing to do with the amount of help that I have," she said on the Jay Shetty podcast. "Obviously, having nannies and a chef to help cook is beyond helpful. It's all about family and enjoying these moments. It takes a village to raise kids, but at the end of the day, your kids only want you."
She added the time is the big struggle.
"The one thing that everyone has in common is just the amount of time that we have," she continued. "I'm raising four kids and I split my time between my work, my family, my four kids and I want to make sure that my kids have 90% of that."
It's funny how reading about Kardashian's struggles with divorce and single parenthood can be pretty relatable and pretty alienating, all at the same time.