PlayStation Just Introduced A Highly Customizable Accessibility Control Kit For PS5
Project Leonardo is designed to "remove barriers to gaming and help players with disabilities play more easily, more comfortably and for longer periods on PS5."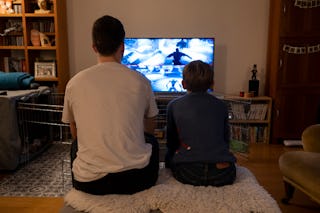 Richard Baker/In Pictures/Getty Images
Sony is making accessibility a priority for its gamers. On Wednesday, Jan. 4, the company introduced a new controller still in development that aims to improve accessibility to players with disabilities on the PS5.
The device, called Project Leonardo, was "developed with key contributions from accessibility experts, community members, and game developers," said SIE designer So Morimoto, per the PlayStation Blog, and "works in tandem with many third-party accessibility accessories and integrates with the PS5 console to open up new ways of gaming."
Sony said it consulted with accessibility experts in organizations like AbleGamers, SpecialEffect, and Stack Up to create the customizable gaming controller.
The controller makes it easier for players with limited motor control to tap in on the action of games that often require "accurately pressing small clusters of buttons or triggers, or positioning thumbs and fingers optimally on a standard controller.
The round controller includes "a robust kit of swappable components, including a variety of analog stick caps and buttons in different shapes and sizes," making it easy for anyone to map out certain buttons on any of the swappable pads. So for example, someone who has a difficult time hitting both the R2 and L2 (trigger) buttons can map both onto one pad, making it easier to access.
It is also compatible with other PlayStation accessories like the DualSense wireless controller. In fact, a player could in theory use two Leonardo controllers and one DualSense controller in tandem simultaneously to play a game of their choosing.
"Because players can customize Project Leonardo according to their needs, there is no one 'right' form factor. We want to empower them to create their own configurations. The controller can also flexibly accept combinations of accessibility accessories to create a unique aesthetic," explained Morimoto. "I am excited that the design will be completed through collaboration with players rather than presenting them with a single form factor."
There is no release date for the new controller — or listed retail price. As of now, Sony said it will "continue to gather valuable feedback from the community" about the new Project Leonardo controller.