An Australian Newspaper Threatened To Out Rebel Wilson
The since-deleted article on 'Sydney Morning Herald' said that they gave Wilson 'two days to comment on her new relationship' before they would run a story on it.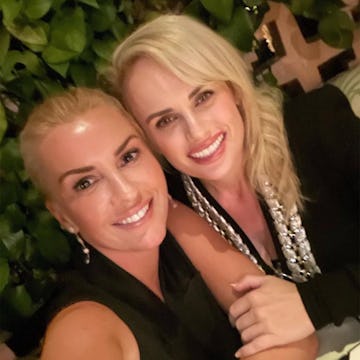 Rebel Wilson / Instagram
Rebel Wilson has come out as a member of the LGBTQIA+ community by introducing the world to her girlfriend on Instagram on Thursday, June 9.
"I thought I was searching for a Disney Prince… but maybe what I really needed all this time was a Disney Princess 💗🌈💗#loveislove," the "Pitch Perfect" actress captioned a too-cute selfie on Instagram with new beau Ramona Agruma, just in time for Pride Month.
Friends and fans were overjoyed for Wilson, but were also angered when an Australian newspaper ran an article claiming that they had plans to seemingly out Wilson if she didn't reveal the news herself.
The day after she shared the news of her relationship, the Sydney Morning Herald ran (and promptly deleted) an article that claimed to know of Wilson's relationship before her reveal. The article also claimed that the publication reached out to Wilson earlier that day before making her relationship Instagram Official, saying they would give her "two days to comment on her new relationship," before they were just going to run a story on it anyway.
It gets more infuriating. According to BuzzFeed News, the writer of the piece, celebrity reporter Andrew Hornery, said reaching out to Wilson had been a "big mistake," as it essentially scooped his story.
"Wilson opted to gazump the story, posting about her new 'Disney Princess' on Instagram early Friday morning," Hornery wrote in the since-deleted article. "The same platform she had previously used to brag about her handsome ex-boyfriend, wealthy American beer baron Jacob Busch."
Hornery also brought up the fact that Wilson won a defamation lawsuit against Women's Day for labeling her as a liar, and somehow used that as fodder to continue to attack Wilson's lack of comment.
"Considering how bitterly Wilson had complained about poor journalism standards when she successfully sued Woman's Day for defamation, her choice to ignore our discreet, genuine and honest queries was, in our view, underwhelming."
So basically, this reporter was upset that he didn't get to break Wilson's personal news and attacked her. Cool! Of course, social media dragged Hornery, and Wilson made a comment on the whole ordeal.
After being properly dragged, the writer penned a followup, titled, "I made mistake over Rebel Wilson, and I will learn from them." Hornery noted that he himself is an openly gay man and that he is "well aware of how deeply discrimination hurts," adding that he would never wish to "inflict that pain on someone else."
He ultimately said that he and his publication "mishandled steps in our approach," reporting on a celebrity romance story. Alright buddy.
Of course, Wilson took the high road. After a couple of days, she responded to a reporter lambasting SMH for its insensitive reporting.
"Thanks for your comments," she wrote. "It was a very hard situation but trying to handle it with grace."
Back in May, the Pitch Perfect star revealed that she was "happily in a relationship," but didn't give any more details as to who she was seeing.
"I am now happily in a relationship," she said on Jordana Abraham and Jared Freid's podcast U Up. "I met them at a friend's setup."
"I was on and off on the Raya app, but this was a friend setup," she said. "He had known both of us for at least five years and he thought we would hit it off — and then we did!" she added.
And it turns out the two lovebirds have been hiding in plain sight, as Wilson has posted multiple photos with her girlfriend, like this post from May where it appears that Wilson's hand is resting on her girlfriend's arm.
In May, she also told People a bit about her new love, saying that she and her then-unnamed partner met "through a friend" and that they "spoke on the phone for weeks before meeting. And that was a really good way to get to know each other," she said. "It was a bit old-school in that sense — very romantic."
"I think going through the process of finding more self-worth, I think that what you want in a partner is elevated and so it's great to have someone who feels like an equal partner and be in a healthy relationship," Wilson added. "There were times — I'm not saying with all my exes, they're great — but there were some times that I was probably putting up with that I shouldn't have. So it feels different to be in a really healthy relationship."
Congratulations to Wilson for finding her Disney Princess! Love is love.
This article was originally published on